Patek Philippe to TAG Heuer: Your $15,000 Watch Is Too Cheap
By
Stern says TAG Heuer's cheap tourbillon may ruin Swiss quality

TAG CEO Biver says Patek needn't fear low-cost competition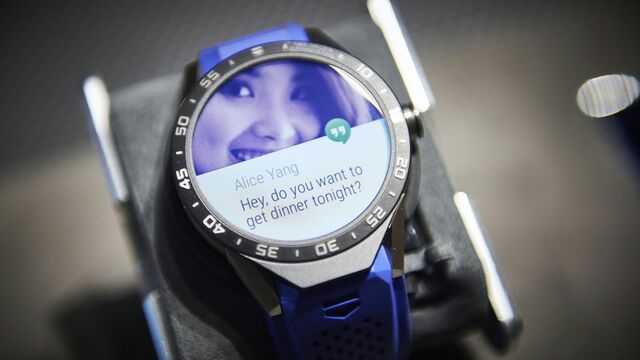 Patek Philippe Chairman Thierry Stern said rival TAG Heuer will have a difficult time competing with Apple Inc. in smartwatches and is ruining Swiss craftsmanship by making cheaper versions of complicated mechanisms, a rare face-off between the doyen of the industry and its enfant terrible.
Swiss watchmakers such as TAG Heuer rushed into making smartwatches and not all will be winners because they don't have the expertise, Stern said at the Baselworld trade fair Wednesday.
"It's hard to compete with brands who are very powerful, we're talking about Apple," Stern said in an interview. "With TAG, again, it's not their field. To be frank, it will be hard for them." 
The dispute pits Stern, the fourth-generation chairman of Patek, against Jean-Claude Biver, whose flair for marketing has propelled the Omega and Hublot brands. Stern said TAG Heuer's decision to offer a $15,000 watch featuring a complex spinning mechanism known as a tourbillon is "nearly a joke to me" that sacrifices sophisticated craftsmanship for a rush for sales. Patek Philippe needn't fear low-cost competition, retorted Biver, adding that TAG Heuer's smartwatch has been selling out and will keep its value against the Apple Watch because it's more exclusive.

Apple Problem
"I don't believe Apple is a threat for me," the president of LVMH's watch business and interim chief executive officer of TAG Heuer said, also speaking at Baselworld. "All the people that produce watches in Switzerland between $300 and $1,500 might have a problem with Apple, but not us."
TAG Heuer plans to produce about 200,000 smartwatches, making them scarcer than the Apple Watch, Biver said. The Swiss watchmaker also offers buyers the option of converting it into a mechanical watch if it goes obsolete.
"Is it going to be the best one?" Stern asked. "Definitely not, I don't think so, because they don't have the power behind."
Whirlwind Watch
Patek's chairman said TAG Heuer is watering down Switzerland's reputation for watchmaking, having undercut all rivals with the Carrera Heuer-02T, the cheapest Swiss-made watch with a tourbillon. French for "whirlwind," a tourbillon is one of the most complicated features for a watchmaker to produce.
During the watch boom of the last decade, tourbillons became popular to make because they could justify a price tag of $50,000 or more. Brands such as Breguet got the idea that two tourbillons might be worth more than one, and the arms race eventually culminated into Greubel Forsey's Quadruple Tourbillon. 
Patek Philippe has been steering away from new tourbillons as demand for them may collapse if watchmakers focus on making them cheaper rather than better, Stern said.
"If they're willing to try to kill the quality of the Swiss product, I think they're on a very good track," he said.
Stern will have no problem facing the low-cost competition, said Biver, who collects Patek Philippe timepieces. That brand can command prices as much as five times those of TAG Heuer because it's the pinnacle of Swiss watchmaking, he said.
"Take a Ferrari car with a V12," the Luxembourg-born executive said. "If Renault would come out with a V12 at half the price, I believe a Ferrari will still sell.''
Before it's here, it's on the Bloomberg Terminal.
LEARN MORE