Morgan Stanley Downgrades LinkedIn, Slashes Price Target by 34 Percent
More downgrades for a battered stock.
by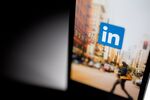 "Why we were wrong" isn't a phrase one might want to include when sending out a note to clients, but it's what Morgan Stanley analysts were forced to deploy on Wednesday morning as they downgraded LinkedIn Corp.
The shift from "overweight' to "equalweight," is the latest in a series of cuts for LinkedIn after it reported lackluster earnings last month that sent shares tumbling by more than 40 percent the following day. 
"With its current product offering, LinkedIn isn't likely to be as big of a platform as we previously thought," the team, led by Brian Nowak, said. "We are reducing our price target to $125 [per] share (from $190) as well, driven by our lower long-term cash flow forecasts and increased execution uncertainty."

Two key factors that had kept Morgan Stanley bullish are now abating. The first was growth in LinkedIn's Talent Solutions segment, which includes such things as subscription revenue. Nowak and his team now believe that growth has slowed both domestically and internationally for this segment and that the increased focus on small- and medium-sized businesses betokens that LinkedIn is hitting a peak when it comes to larger companies. 
The second was the monetization potential in new segments, known as Lynda and Sales Navigator. Recent events have caused the team to grow skeptical.
"LinkedIn's ability to re-accelerate Talent Solutions growth and/or deliver better than expected results in B2B advertising, Lynda or Sales Navigator could reinvigorate investors and drive the stock back toward our bull case valuation ($200/share)," the analysts noted. "That said, continued faster than expected deceleration and/or mis-execution will likely cause the stock to be range-bound (best case) or trend toward our bear case valuation ($60/share)."
The downgrade is important for public and private firms alike as LinkedIn is a popular gauge for high-flying Internet and media startups. The company attracted funding from some of the biggest venture capital firms in the world, including Sequoia Capital LLP and Bain Capital Ventures, before going public in 2011. 
Nowak said a few things could help LinkedIn perform better than he expects. Further share buybacks or increased dividends, as well as upward revisions to the earnings outlook, could increase the share price, though he doubts that even they could help boost the stock for long: "Upward revisions could cause relief in the stock, but we question whether that potential relief would hold given the execution uncertainty around the platform."
LinkedIn shares are down by about 4 percent in pre-market trading on Wednesday.
Before it's here, it's on the Bloomberg Terminal.
LEARN MORE