Can a Wi-Fi Router Be Sexy? Yeah, It Can
Goodbye to the gray brick.
By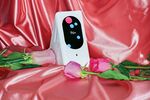 The last time you thought about your Wi-Fi router was probably the day you set it up—or the day it suddenly stopped working. But a startup wants to give us a reason to think about that blinking box beyond when we're cursing it.
Just as Google's Nest is based on the idea that someone could find a thermostat sexy, Starry Station ($349.99; preorder for April delivery at starry.com) is for people who want something more than a dull, utilitarian router. For starters, it's a bright white aluminum triangle, not a dark gray brick, and it has a touchscreen. "The last thing we wanted to do was design something that looked like it belonged in a data center," says Don Lehman, the company's head of industrial design.
Starry Station isn't just all looks. There's novelty to its technical approach as well. Standard dual-band routers enable separate Wi-Fi networks, but Starry's software automatically chooses which network is right for your device—be it one designed to carry a data-heavy signal or one with a greater range but less capacity. Usually this has to be done manually, and other routers that promote auto switching often fail at it.
Other startups are working on more consumer-friendly Wi-Fi routers, too. Eero ($499 for a three-pack; eero.com and amazon.com, where, based on about 300 reviews, it has 3.9 out of 5 stars) recently began shipping a series of sleek white rectangles designed for positioning around a house. Together they form what's known as a mesh network, which spreads a signal evenly throughout a space. A signal from a single router gets weaker the farther it has to travel.
The question Starry and Eero face is whether all of this is enough to entice people to pay a hefty premium for it, given that there are highly rated routers available for less than $100. But, hey, at least people will be pondering this and not, How far can I throw this thing?
Before it's here, it's on the Bloomberg Terminal.
LEARN MORE