China's Divergent Housing Markets Pose Challenges, Minister Says
Bloomberg News
Housing minister says unsold stock mainly in smaller cities

Migrants have 'huge potential' to buy homes, minister says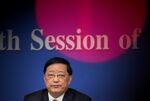 China's top housing official has warned that the nation's severely divergent housing markets are posing challenges to government regulations, after stimulus intended to boost sluggish real estate investment led to a home-buying frenzy in first-tier cities.
The "substantial gap" between the nation's top cities and lower-tier regions is widening, challenging the government's regulation, Chen Zhenggao, head of the Ministry of Housing and Urban-Rural Development, said Tuesday at a press conference during annual legislative meetings in Beijing. While home sales nationwide have stabilized and started to rebound, the inventory issue is "still serious," mainly in the third- and fourth-tier areas, Chen said.
Residential home prices in top hubs including Beijing, Shanghai and Shenzhen have surged amid central bank monetary stimulus since November 2014 and an easing of housing curbs. New-home prices in the southern business hub Shenzhen jumped 52 percent in January from a year earlier, while they surged 18 percent in Shanghai, in contrast to some smaller cities where continued to drop, according to latest official data.
"The divergence is severe between first-tier cities and those in the third and fourth tiers, and it is worsening," Chen said. "This brings challenges to our regulation, and remains a huge issue in front of us."
The ministry is making every effort to stabilize home prices in first-tier and some second-tier cities, which rose "too fast" after the Chinese Lunar New Year holiday last month, he said.
Home inventory nationwide was 739 million square meters (7.96 billion square feet) at the end of February, up 15.7 percent from a year earlier and widening from 718 million square meters at the end of 2015, Chen said.
Chen on Tuesday reiterated the central government's pledge to help rural residents buy residences in urban areas as part of measures to trim the supply of unsold homes. China's rural population migrating to urban areas for work has a "huge potential" to buy homes, Chen said, adding that local governments are implementing preferential policies to encourage migrant workers to purchase residential properties.
— With assistance by Emma Dong
Before it's here, it's on the Bloomberg Terminal.
LEARN MORE