The Chinese Dealmaker Following Buffett's Lead
by and
Company has recently agreed to buy 16 luxury U.S. resorts

Anbang has links to some of China's most powerful families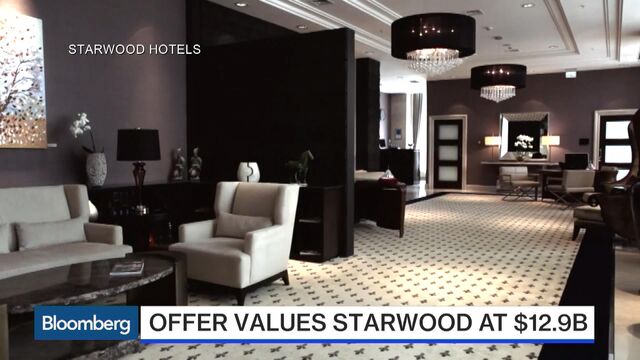 He is the would-be Buffett of Beijing: the man out to build a Berkshire Hathaway Inc. of China.
In just over a decade, Wu Xiaohui has transformed his company, Anbang Insurance Group Co., from an obscure player in China's insurance industry into a juggernaut with global ambitions.
Now, Wu's rapid rise is turning heads as China projects its money and influence around the world with new force.
In short order, Anbang has agreed to buy 16 luxury resorts in the U.S., including the landmark Hotel del Coronado near San Diego, California, and also launched a surprise bid for Starwood Hotels & Resorts Worldwide Inc., owner of Sheraton, Westin and St. Regis hotels. The combined price tag could approach $20 billion.
It's the latest move in a remarkable run for Wu, who first came to widespread attention outside China when Anbang bought New York's famous Waldorf-Astoria hotel last year. His swift ascent -- which China's state media have likened to "the Warren Buffett model" of using insurance income to fund wider ambitions -- underscores how China's leaders are pushing to diversify the nation's powerful state-owned enterprises. With the domestic economy slowing, China Inc. is in the midst of a global buying spree that has begun to tip the balance of power in deal-making.
Boldest Actors
Anbang, founded in 2004, today ranks among the boldest actors in the game, and its pull extends beyond pure business. While many Chinese companies cultivate alliances with relatives of current and former senior officials, Anbang also has links to some of modern China's most powerful families.
According to the online Caixin magazine, Wu formed ties with the family of Deng Xiaoping, one of China's most revered leaders, after marrying Deng's granddaughter. Anbang is also said to have links to the family of Chen Yi, a top military commander under Mao Zedong, as well as to the family of Zhu Rongji, China's former premier.
So far, Wu, Anbang's chairman and chief executive, has largely shut out global investment banks. He typically avoids turning to outside bankers, instead opting to negotiate some deals himself, according to people who have dealt with him. Right up until Anbang bought the Waldorf from Blackstone Group LP, for instance, Wu spoke personally to Tyler Henritze, a top Blackstone dealmaker, with a Blackstone employee serving as translator.
First Families
Anbang's connections go beyond China's first families, extending to some of its powerful state-owned enterprises. The company's shareholders include SAIC Motor Corp., one of the few automakers in Mao's China, and China Petroleum & Chemical Corp., China's flagship energy company. Anbang, which calls itself one of China's largest insurance groups, started out in auto, property and casualty insurance before pushing into life insurance in 2010. As of 2013, it had just 0.1 percent of the domestic life-insurance market.
Even before news of the latest deals hit, Wu was looking to branch out. Last November, Anbang agreed to buy HRG Group Inc.'s Fidelity & Guaranty Life for about $1.6 billion in cash. Other recent purchases have included commercial real estate in the U.S. and Canada; a stake in Minsheng Bank, China's biggest private lender; Belgian insurer Fidea NV and Tongyang Life Insurance Co. of South Korea.
'Highly Conditional' Bid
With the Starwood approach, Wu is leading a group of investors against an earlier bid by Marriott International Inc., which agreed to buy Starwood last November. Anbang teamed with investors including the private equity firm J.C. Flowers to offer $76 a share in cash for Starwood, topping Marriott's stock and cash bid. Marriott gave Starwood a week to hold talks with the Anbang group, calling the rival offer "highly conditional."
If Anbang strikes a deal for Starwood, it would mark one of the largest acquisitions in the U.S. by a Chinese company. Smithfield Foods Inc., the world's biggest pork producer, was sold to a Chinese company in 2013 for almost $7 billion.
Chinese investors big and small have flocked to real estate in many major markets, from Vancouver and Sydney to San Francisco and New York. Hotels in particular are attracting strong interest as Chinese travel increases and domestic economic growth slows.
'Ni Hao'
Wu, meantime, seems to be reveling in his company's success. At a Harvard University recruitment event in January 2015, he told students that Anbang seeks to pay below book value for companies that generate a return on equity of more than 10 percent, according to a transcript of his speech. He also talked about his friendship with Steve Schwarzman, the chief executive officer of Blackstone, his plans for deals around the globe -- and the value of knowing how to say "ni hao," a Chinese greeting that means hello.
His move into the U.S. has prompted some subtle changes, too. Last year, China's president, Xi Jinping, stayed at the Waldorf during his first state visit. President Barack Obama has avoided the hotel since it fell into Chinese hands -- breaking with a presidential tradition going back eight decades.
Before it's here, it's on the Bloomberg Terminal.
LEARN MORE