China Watchdog Takes It Slow on IPO Reform, Vows Stock Help
Bloomberg News
CSRC chairman vows decisive action if needed to curb panic

Liu Shiyu says no timeline for rescue fund to exit the market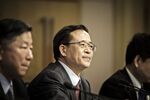 The new head of China's securities regulator used his first briefing to appeal to beleaguered stock investors, signaling he'll keep propping up the nation's battered market and that initial share sales will remain a virtually guaranteed winning bet.
Liu Shiyu, chairman of the China Securities Regulatory Commission, vowed to step in "decisively" if needed to curb panic and defended intervention following last summer's $5 trillion selloff. It was far too early to think about the state rescue fund leaving the market, Liu said, in a colorful session where he likened last year's rout to an oil tanker traveling down a steep road with a malfunctioning engine.
A new registration-based system for initial public offerings, which would end CSRC intervention in pricing and expedite IPOs, was necessary but would take time, Liu said, without elaborating. While a slow introduction of the process would limit the supply of new equity, it's bad news for the more than 700 companies that have IPO applications pending with the regulator.
"Investor confidence has yet to recover from last year's stock-market rout," China Asset Management Co., one of the nation's largest mutual fund companies, said in a statement. Liu's comments "will stabilize expectations and ease worries about financing pressure."
The Shanghai Composite Index climbed 1.8 percent at the close.
Liu took over as head of the CSRC last month from Xiao Gang, who was widely criticized for his handling of last summer's rout and oversaw the failed introduction of a market circuit-breaker mechanism in January.
There are "lessons to be learned" from the circuit-breaker issue and the country won't be ready for such a system for years, said Liu, who was previously Agricultural Bank of China Ltd.'s chairman. He avoided detailed criticism of CSRC moves before he arrived, particularly during the time of the market collapse.
"The impact of the slumping stock index on the financial market at the time was like an oil tanker truck whose engine was not working as it went down a steep road," Liu said at the briefing, held on the sidelines of China's annual legislative session. "In a less severe scenario, the truck might be destroyed and the driver die. In the worst case it could lead to forest fire and threaten innocent lives."
Important Task
Journalists quizzed Liu about the new process for IPOs after Premier Li Keqiang failed to explicitly mention the registration system in his annual report to China's legislature this year, when he had done so in 2014 and 2015. Liu acknowledged the complexities in developing the system, without giving any indication of timing for its introduction.
"The IPO registration system is an important task for the healthy development of the capital market," Liu said. "I can clearly answer you that this has to be done. The question is about how to do it and to know how to implement."
He said it was too early to talk about the end of share purchases by China Securities Finance, the body that the government has used to prop up equities since last summer's rout. Last August, the CSRC said the fund will remain in the market for years to come. The fund now has stakes in almost 600 publicly traded companies, according to data compiled by Bloomberg.
"We have high expectations in the new chairman," said Chu Ming Chuan, a member of the Chinese People's Political Consultative Conference and chairman of Asia Cassava Resources Holdings Ltd. "We hope the new chairman can fix the situation of volatile stocks that has hurt investor confidence. China's stock market needs to be developed but it has to be done in a prudent manner."
— With assistance by Tian Chen, and Aipeng Soo
Before it's here, it's on the Bloomberg Terminal.
LEARN MORE