Ex-Putin Aide Who Died in D.C. Said Killed by Blunt Force
by
Mikhail Lesin died from blows to head, says medical examiner

Onetime information minister founded Russia Today news channel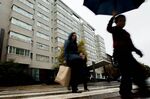 A former aide and minister under Russian President Vladimir Putin who was found dead in his hotel room in Washington last year was killed by blunt force injuries to the head, the chief medical examiner's office in the U.S. capital said Thursday.
Mikhail Lesin, who served as information minister under Putin and advised the president on media policies, ran one of Russia's biggest media operations, Gazprom Media, until December 2014. He was also a founder of the Russia Today news channel, now known as RT.
Lesin was found dead in November 2015 at the Dupont Circle Hotel. He died of a heart attack, Russian state news service RIA Novosti reported at the time.
The Washington medical examiner said today that in addition to the blows to the head, Lesin suffered blunt-force injuries to his neck, torso, arms and legs. The examiner, which stated his age as 59, released its findings in a joint statement with Washington's police department. RIA Novosti reported he was 57.
The manner of death, or how Lesin died, was listed as undetermined.
'Ongoing Investigation'
"There is an active, ongoing investigation" into the incident, said Hugh Carew, a spokesman for the police. He declined to comment further. LaShon Beamon, a spokeswoman for the medical examiner's office, also declined to comment beyond the statement.
Russia expects "explanations and official data on the progress of the investigation," Foreign Ministry spokeswoman Maria Zakharova wrote in a statement on Facebook. She said the U.S. had provided "no substantive information" to date on the case despite numerous requests made by the embassy in Washington. If the latest reports are confirmed, she said, Russian authorities will officially request cooperation in the probe.
Lesin had been the subject corruption allegations in the U.S. In 2014, U.S. Senator Roger Wicker, a Mississippi republican, send a letter to the Justice Department requesting an investigation into Lesin for possible violations of the Foreign Corrupt Practices Act and anti-money-laundering regulations. He cited some $28 million in real estate purchases by Lesin in the Los Angeles area.
In a 2014 interview with the Russian edition of Forbes, Lesin said the property was owned by his adult children and not connected to him.
Before it's here, it's on the Bloomberg Terminal.
LEARN MORE