Philippine Court Clears Presidential Candidacy of Grace Poe
by and
Supreme Court voted 9-6 to overturn disqualification of Poe

Election body had disqualified Poe over citizenship, residency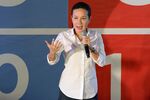 The Philippine Supreme Court overturned a ruling by the election commission to allow frontrunner Grace Poe to stand in May's presidential race.
In a 9-to-6 vote, the nation's top court ruled that Poe, a 47-year-old senator, can continue her bid to become president in the May 9 elections, spokesman Theodore Te said in a televised briefing. In December, the Commission on Elections disqualified Poe, who was found abandoned as a child and once renounced her Filipino citizenship. The election body questioned whether Poe was a natural-born citizen and if she met the 10-year residency requirement for seek the top post.
Left on the steps of a church in Iloilo City in central Philippines while still an infant, Poe was adopted by popular actor and 2004 presidential contender Fernando Poe Jr. Little is known about the nationality of her birth parents. Poe became a naturalized U.S. citizen in 2001 after her marriage to an American citizen of Philippine descent. She returned after her father died in 2004 and recovered her Filipino citizenship in 2006.
The top court decision could benefit President Benigno Aquino's favored candidate Mar Roxas and hurt Vice President Jejomar Binay and Davao City Mayor Rodrigo Duterte who were expected to gain from a Poe disqualification, said Richard Javad Heydarian, an assistant political science professor at De La Salle University in Manila.
Poe, in a speech while campaigning in Manila, said the decision is a triumph for women and foundlings. She vowed to fight on behalf of women, work to boost their incomes, promote gender equality and prevent discrimination.
Poe and Binay were statistically tied in a Pulse Asia Research Inc. survey conducted between Feb. 15 and Feb. 20 with 26 percent and 25 percent respectively. Roxas and Duterte each had 21 percent support in the survey of 1,800 respondents. The election commission and opponents of Poe's candidacy can still appeal the Supreme Court ruling.
"Poe's legal victory shows that the high court justices didn't want to preempt the people in their choice for president," said Benito Lim, a political science professor from the Ateneo de Manila University. "That will make her even more popular. But the presidential contest is a close fight, so in the end, it's the candidate's platform of government that will deliver the votes, not just popularity."
Before it's here, it's on the Bloomberg Terminal.
LEARN MORE