Pandora's Plan to Stay Independent Means Push Beyond Radio
by
Concert tickets and on-demand streaming add new businesses

They also bring competition with giants like Apple, YouTube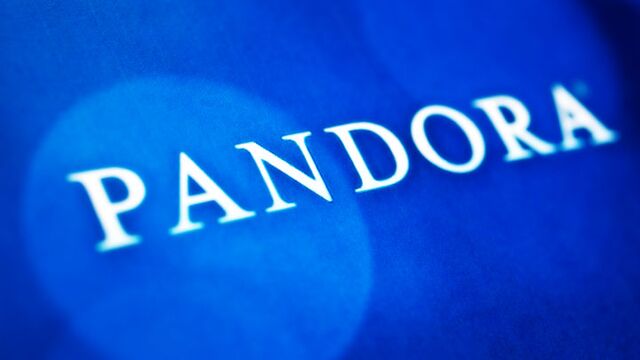 Under pressure from mounting competition and a declining stock price, Pandora Media Inc. executives showed up to work on Feb. 11 prepared to punch back.
The Internet radio pioneer was about to outline a five-year plan to expand from a single, slowing business into a global one-stop shop for all things music. Recent acquisitions gave Pandora the ability to offer on-demand streaming and concert tickets, in addition to the online music stations that feature everyone from Elvis to Adele.

"We could have circled the wagons around radio and stayed in our little space, but I don't think anyone really wants to do that," co-founder Tim Westergren said in an interview last week. The company worked so hard, he said, "to get here and have this gigantic audience and monetize it well. Now we can be more expansive."
With the new strategy, executives see the potential to almost quadruple sales to more than $4 billion by 2020. To get there, Pandora has to go toe-to-toe with Apple Inc., YouTube and music on-demand leader Spotify Ltd., not to mention conventional radio stations and the largest U.S. concert promoter. Because of the costs, forecasts for a $50 million profit in 2016 have vaporized, becoming a projected $70 million loss. The company also recently retained Morgan Stanley to weigh strategic options like a possible sale, according to people with knowledge of the matter.
Chief Executive Officer Brian McAndrews and Chief Financial Officer Mike Herring, along with Westergren, all declined to discuss a potential sale of the Oakland, California-based company, except to stress they would rather stay independent.
"This company is best run by us," Westergren said over sushi at Ozumo, one of his favorite lunch haunts nearby. "We have the team. We have the building blocks of an enormous, standalone independent, large company."
Rdio Remnants
In November, Pandora purchased the remnants of Rdio, a failing music streaming company, for $75 million. Rdio gave the company technology to compete with Spotify, the leader in that segment of the market, with 20 million paying subscribers and 75 million users as of last year. Apple, Alphabet Inc.'s YouTube and Amazon.com Inc. also offer large catalogs of songs on demand.

Pandora believes it can provide a better service by mining its user data, according to Herring. Rather than delivering a custom playlist each week, like Spotify's Discover Weekly, Pandora can do it in the moment. In addition, listener data can help save money by reducing music licensing costs. Long-term, Pandora sees sales of as much as $1.3 billion from on-demand streaming.
"Other services have weekly customized playlists for you and that's supposed to be innovation," Herring said. "We create customized playlists for 30 million people every day. We do that every minute."
Seeing It Live
Being clued in to customer tastes also means Pandora has insights into who listeners want to see on stage, Herring said. In October, the company expanded into concert promotions and ticketing with the $450 million purchase of Ticketfly Inc. That followed the May acquisition of Next Big Sound, a data-services company that artists, managers and others use for marketing.
Ticketing, a potential $300 million business, is central to Westergren's vision for reshaping the music business by helping mid-tier artists. The Stanford graduate was a musician before he founded Pandora. The company, he says, can help artists with smaller fan bases by giving them tools to communicate directly about shows and by selling tickets.
Armed with such listener data, Pandora said it won't have to spend as much money on marketing as Live Nation Entertainment Inc., the largest promoter and ticket seller.
Big hurdles stand in Pandora's way, including powerful competitors and a fraught relationship with music labels. The company needs licensing deals with Universal Music Group, Sony Music Entertainment and Warner Music Group to get its on-demand service off the ground. In October, Pandora recorded charges of $81.8 million to settle litigation and buy temporary truces with the industry.
"The guys that are there now have realized the time has come to lay down the arms and come up with a licensing structure that will allow the business to scale," said Matt Pincus, chief executive officer of Songs Music Publishing, which signed a deal with Pandora last year.
Skeptical Shareholders
Investors need convincing too. Pandora slumped 12 percent on Feb. 12, after management outlined the new long-term plan and reported sales and profit that missed Wall Street forecasts. The amount of time users spent listening to Pandora grew by just 5 percent last year, and active users shrank by about 400,000 to 81.1 million.
While the stock has bounced back, rising 3.3 percent to $11.21 at 9:47 a.m. Monday, it's below the $16 offering price from June 2011 and a fraction of the $37.42 high set in February 2014, months after McAndrews became CEO. The digital-advertising veteran, who led marketing firm aQuantive Inc. before it was sold to Microsoft Corp., needs to show shareholders he has the strategic vision to position Pandora for the future.
"Pandora pioneered something really interesting, really special with their free ad-based streaming music service, and now they are stuck betwixt and between," said Barton Crockett, an analyst with FBR & Co. who recommends the stock. "The early adopters are moving to on-demand, and mainstream America is still in love with AM/FM radio."
Pandora's sales grew 26 percent last year, driven by subscriptions and advertising, with revenue forecast to expand another 21 percent this year to $1.41 billion, based on analysts' estimates. While revenue growth is slowing, Pandora's dominance in online radio makes the company is an appealing asset -- on its own or to a potential buyer, according to analyst Crockett.
Long term, Pandora sees Internet radio remaining its biggest business. Sales should reach $2.4 billion, suggesting the company will continue taking revenue from traditional broadcasters like iHeartMedia Inc., the largest owner of conventional stations. Ad-supported radio will funnel millions of users into paid streaming and concerts, a formula designed to carry Pandora forward, including to new markets outside the U.S.
"We've said what we're doing," CEO McAndrews said. "We have to now deliver."
Before it's here, it's on the Bloomberg Terminal.
LEARN MORE