Grades Are In
Report Card: Four-Way Stalemate in Detroit Debate
The four Republicans left in the presidential primary essentially fought to a draw in their 11th debate.
By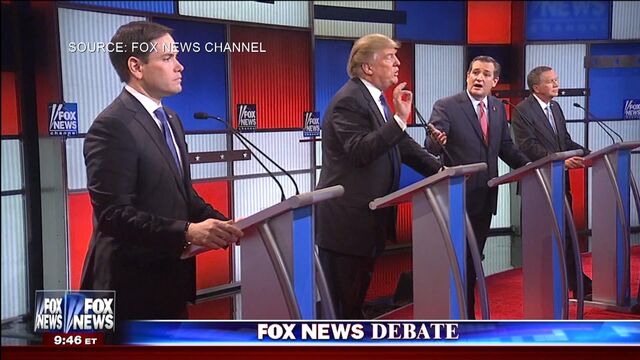 With just a quartet of Republicans remaining in the race and standing on the Michigan debate stage, there was an opportunity for each one to break though—but none fully seized the moment. Donald Trump was at the center of attention all night and took the bulk of the blows, but he never wilted or appeared cowed.

Flaunted both his governing credentials and levelheaded demeanor, staying determinedly out of the mud and above the fray. Gave a solid performance of strength, sense, charm, and gravitas that was further elevated when contrasted with the three heated squabblers on stage beside him. Some rousing moments recounting his campaign trail and Ohio experiences that will potentially leave a lingering positive impression with Main Street Republican voters.

Successfully maintained dual agendas throughout the debate: defining his own candidacy and assailing Trump. Allowed Rubio to serve as the chief hostile foil to the billionaire, then picked his own fights with care, always tethering the attacks to tangible issues that voters could digest, and at times scoring points off the front-runner. Absent from the conversation for long stretches, but played to his strengths when he got the conch.

Touted his penis size—literally—in an early exchange with Rubio, part of a hot war that ran all night, forcing him to abandon the presidential tone and mature mien he employed so effectively the night of his Super Tuesday victories. Feverishly defended himself against a barrage of shots from both his rivals and the Fox News moderators, yet failed to put several controversies to rest. Opponents will claim that, at times, he exposed a thin skin. Still, as the undisputed front-runner and main target, he dominated the night, racking up on-message remarks and avoiding any game changing slip-ups.

Took up where he left off last debate by seeking out a flurried nonstop fight with Trump, often at the expense of selling his own attributes, finding a rhythm, or streamlining his argument. Hoarse, slightly weary, and less antic than he's been of late. Searched somewhat in vain for a balanced tone after a week of harsh/comedic rhetoric on the stump. Still, reinforced his claim to being the candidate most fervently determined to stop Trump.
Note: Grades reflect many aspects of the candidates' performance, including style, substance, and crowd reaction, and whether a candidate seemed to improve or hurt his or her overall standing based on the debate.