Style
Men, Here Are 16 Ways to Wear the Color Green
It's almost St. Patrick's Day, but there's a difference between charmingly embracing a fun holiday and looking as if you're searching for a pot o'gold.
by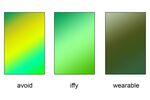 Every March 17 brings thousands of small, missed fashion opportunities.
Yes, a shamrock shirt is fun—as is everyone in the office dressing in the same color for a holiday. But in America, St. Patrick's Day is too frequently the only time each year that men dig their single green sweater (or tie) out of the closet and then, grudgingly, put it on. 
Green can be a tough color to wear. But you shouldn't be afraid of it. On most guys, it can be a nice, flattering change from the flow of white shirts and blue shirts. So in honor of the holiday and the season (warmer months are all about lightening up your color palettes), I've devised a chart and mapped out some picks on wearable shades of greens, from soft, washed-out sage to deep and vibrant hunter, with a few hues between them.
Here are 16 lively picks sure to (lucky) charm you. Bonus: All these pieces are suitable beyond March 17, so you won't be investing in these separates solely to avoid the pinch.
Sage

Wear it as: Sage is a great hue for both chunky and fine sweaters, as well as a relatively easy pastel to pull off on your bottom half. 
Wear it with: Other pastels such as peach, yellow, or even baby blue. For darker hues, sage will pair nicely with navy or brown. 
Also try: Basil and mint green.
Army

Wear it as: Army green is the most versatile and masculine of all the shades. It will look great in anything from a slim-fitting polo to a killer piece of outerwear, such as a field jacket or trench. 
Wear it with: Consider this hue neutral and wear it accordingly; try to match it with something in an inky blue, like a chambray shirt or jeans. Or white—such as white leather sneakers or a T-shirt. 
Also try: Moss and olive green.
Emerald

Wear it as: Emerald green is a darker, yet bright, shade of green, so it wears nicely as a solid, statement piece—such as a quilted vest or lush hoodie—or to add a splash of contrast in a mostly autumnally hued, plaid shirt. 
Wear it with: Try pairing it with stark white for a fresh, spring look. (As in: an emerald green polo with a pair of slim/straight white jeans. 
Also try: India or sea green.
Hunter

Wear it as: The ultra-rich jewel tone will look great in everything from suiting to knitwear and on to accents and accessories such as ties, pocket squares, and killer shoes. 
Wear it with: More dark green or other jewel tones, such as burgundy and amethyst. 
Also try: Dark or forest green.
Nic Screws is the style director at Bloomberg. Follow her on Instagram and Twitter or e-mail her any of your fashion concerns or questions at nscrews@bloomberg.net.

Before it's here, it's on the Bloomberg Terminal.
LEARN MORE