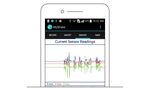 Innovator: Richard Allen
Age: 43
Director of UC Berkeley's Seismological Laboratory and chair of the earth and planetary science department
Form and function
The app MyShake uses the accelerometers of smartphones to collect data that may help detect earthquakes, supplementing the information from seismic research stations to provide people with more warning time.
Setup
The free app, released on Feb. 12, tracks the amplitude and frequency of the phone's shaking to distinguish an earthquake from, say, someone dropping the device. It passes the data and the phone's location to Berkeley researchers.
Detection
Researchers analyze data MyShake collects from a 6-mile radius around the epicenter. In tests using historical data, the software has helped identify earthquakes with 93 percent accuracy.
Origin
Allen started working on MyShake in 2012 after learning about improvements in smartphone accelerometers.
Utility
Allen says his app could be the foundation of an earthquake warning system in places such as Nepal, which has 6 million phones but few seismic monitoring stations.
Funding
In early February the nonprofit Gordon and Betty Moore Foundation gave Allen's project a $1 million grant. Deutsche Telekom has provided about $200,000 in funding and equipment.
Next Steps
Eventually, Allen says, MyShake data could be used to better understand how earthquakes work and help construct sturdier buildings. Thomas Heaton, a professor of engineering seismology at California Institute of Technology, says the app will need a constant stream of user data. "But once we can pull that off," he says, "it's revolutionary."
Before it's here, it's on the Bloomberg Terminal.
LEARN MORE