Irish PM Kenny Fights for Political Survival
by
Fine Gael party meets in Dublin for post-mortem on Thursday

Kenny opens way for grand alliance he had earlier ruled out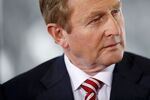 Irish Prime Minister Enda Kenny just found out it's not the economy after all.
The leader of the fastest-growing economy in the euro region is fighting for survival after his ruling coalition was routed in last week's election. His remaining Fine Gael party colleagues meet in Dublin on Thursday for the first time since Friday's vote, with bookmakers offering odds that he'll depart as leader within four months.
"There's no great future for the party with Enda Kenny as leader," said Gary Murphy, a politics professor at Dublin City University. "He's ultimately to blame for a very, very poor campaign."
The plunge in Kenny's support leaves him at the mercy of an old enemy. On Wednesday in Dublin, Kenny opened the door for a historic grand coalition with traditional rival Fianna Fail, after consistently ruling the prospect out during the campaign. Executives want a stable government, with Ryanair Holdings Plc Chief Executive Officer Michael O'Leary warning against a "liquorice all-sorts" government involving many different parties.
Fine Gael will try to form a government "in the interests of people" and would "talk to all parties" including Fianna Fail, Kenny told reporters in Dublin. Fianna Fail is ready to talk, party lawmaker Marc MacSharry told RTE on Thursday, adding that no negotiations are underway.

Support from Fine Gael dropped to 26 percent from 36 percent in 2011. During the campaign, the premier was forced to apologize for describing political opponents as "whingers," and drew fire after saying that the "vast majority of people don't understand economic jargon."
With the last of 158 seats filled on Thursday, Fine Gael took 50 seats and Fianna Fail had 44. Talks on forming a new government probably won't take place before parliament meets again on March 10. It's unlikely any party leader will have enough support to be elected prime minister at that point, and only then will serious discussions on forming a government begin.
Kenny Exit?
Already, one-time allies are raising doubts about Kenny. Former Justice Minister Alan Shatter said on Wednesday that Kenny has "serious questions" to answer on the campaign's flaws, and Dublin-based bookmaker Paddy Power Betfair Plc places a 64 percent probability on the former teacher not leading Fine Gael party by July.
Executives are calling for stability.
"We have made really good progress," Albert Manifold, chief executive officer, at CRH Plc, the nation's largest company, said in an interview on Thursday. "We need to keep it going to retain the confidence of people and investors."
With Spain's own political deadlock stretching into its third month and the European Central Bank mulling more monetary stimulus, investors are giving Ireland the benefit of the doubt.
The spread between benchmark bonds and German securities of a similar maturity narrowed to 73 basis points on Thursday from 83 basis points just before the election.
"I think the bond markets will be prepared to give Ireland a bit of time, even beyond March 10, to form a government," said Ryan McGrath, head of fixed-income strategy at Cantor Fitzgerald LP. "But the longer the stalemate drags on without any solution in sight, the more nervous markets will become."
Before it's here, it's on the Bloomberg Terminal.
LEARN MORE