Forty Years After Pele, Under Armour Sponsors New York Cosmos
By
Deal is Under Armour's first U.S. soccer team sponsorship

Pele's star power made the Cosmos famous in the 1970s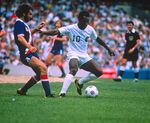 Under Armour Inc. has agreed to become a sponsor of the New York Cosmos, a North American Soccer League franchise best known for Pele's stint with the team in the 1970s.
The sponsorship is Under Armour's first deal with a professional American soccer team and may provide an opening into a sport and domestic market where rivals Nike Inc. and Adidas AG have other leagues and teams locked up. The Baltimore-based apparel maker has deals with overseas soccer clubs including Tottenham Hotspur F.C. and Sao Paulo FC.
Under Armour will outfit the team's players on the field and in training, Cosmos chief operating officer Erik Stover said in an interview. The deal, for which financial terms weren't disclosed, follows Under Armour's announcement this week that it would provide the "official match ball" for NASL games.
The deal may help elevate the Cosmos' profile, including through jersey sales, Stover said. "From the commercial side of things, there's a lot of upside for us," he said. "Under Armour is able to help us with distribution in New York and globally."
Nike is the official supplier of athletic wear, training gear, uniforms and footwear for U.S. Soccer, including the national men's and women's teams. Adidas sponsors Major League Soccer.
Today's Cosmos franchise is a second incarnation of the original team that debuted in the NASL in 1970. Pele, the legendary and globally known soccer player, joined the club five years later, elevating it to the upper echelon of American sports and celebrity.
"There's interest with Under Armour in a legacy or heritage that you can't do with anyone else in the U.S.," Stover said.
The new uniforms will be unveiled in New York on March 16.