Clinton Looks to Finish Sanders While Keeping His Voters in Fold
By , , and
Vermont senator trails Clinton by more than 600 delegates

Democrats increasingly turn focus to general election race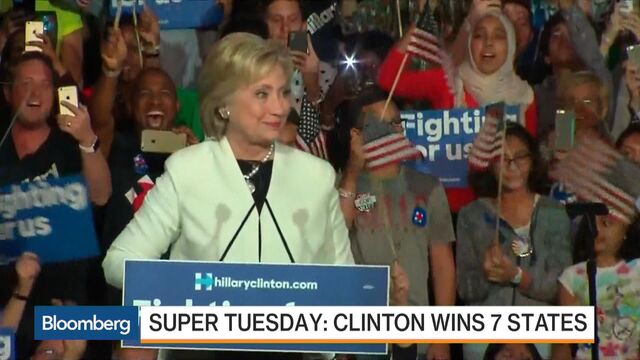 The Democratic presidential race entered a new phase following Super Tuesday, with Bernie Sanders vowing to fight on and Hillary Clinton attempting to start focusing on the general election without alienating her rival or his base of young voters.
The two candidates have very different tasks over the next month. For Sanders, it's making sure his populist message finds a home in the party platform and in the general election campaign. Clinton is seeking to put the primary race behind her and to make sure Sanders's supporters will be going into the voting booths come the November election.
Clinton will do well to be kind to Sanders in the coming weeks even as she presses to lock down the nomination, said Senator Tim Kaine, a Virginia Democrat backing the former secretary of state who is viewed as a potential running mate.
"We've got to start pulling ourselves together because our unity will be critical as we get to November, and I think she's already starting to do that," Kaine said.
Victory Speeches
Clinton has handled Sanders gingerly in her debate performances and victory speeches. She frequently congratulates him, as she did Tuesday night, for his strong performance and expresses pride in the way they've both run a civil campaign, a pointed contrast to the Republican nomination fight.
In her post-Super Tuesday address to supporters in Florida, after having won seven of the 11 contests, Clinton mentioned Sanders only once. Most of her remarks were directed at pointing up the differences between Democrats and Republicans, even though she never uttered the party's name or that of its front-runner, Donald Trump.
"It's clear tonight that the stakes in this election have never been higher," she said. "And the rhetoric we're hearing on the other side has never been lower."
Clinton also has been careful to keep from alienating Sanders's supporters. After her stinging defeat in the New Hampshire primary on Feb. 9, she acknowledged the young voters who went to Sanders, saying after the results were in that "even if they are not supporting me now, I support them."
Widening Lead
Since then, Clinton's been on a roll, racking up victories in Nevada, South Carolina, Texas, Virginia, Massachusetts, Georgia, Tennessee, Alabama and Arkansas. She is increasingly training her sharpest rhetoric on Trump and the Republicans. While her campaign staff emphasizes Clinton's insurmountable lead in delegates needed to secure the nomination, the candidate's approach to Sanders hasn't changed.
Hammering on Sanders, or even emphasizing her differences with him "may not be the best thing to do right now," Kaine said.
Sanders has tread cautiously as well. He has criticized Clinton for the paid speeches she has given to Goldman Sachs and other Wall Street firms, supporting his campaign message that a corrupt system has contributed to a rigged economy that benefits the wealthy. Yet he has avoided attacks that could hurt Clinton as a general election candidate, including her use of a private e-mail server as secretary of state.
'Enthusiastic Movement'
David Gergen, a former adviser to U.S. presidents from both parties, said that even as Sanders vows to compete against Clinton through the last state, he can see the writing on the wall. Sanders will likely lay a parallel groundwork for shaping a Clinton's general-election campaign and White House administration. In exchange for Clinton's ear and respect, Sanders can produce "an enthusiastic movement on her behalf."
"She will want his heartfelt support," Gergen said. "And, of course, he'll be in favor of her versus the Republican nominee. The question is, how heartfelt? In order to get his full support, they may need to negotiate with him."
While Sanders is well-funded and it's "hard to imagine him just falling away to the side,'' he's not likely to raise any new issues that could change the dynamic of the race, Alan Patricof, co-founder at Greycroft Partners LLC and a Clinton supporter, said on "Bloomberg Markets" on Wednesday. "He says the same thing every single day in every single speech, and so he's not going to come up with something new.''
Delegate Count
Clinton now leads Sanders by more than 600 delegates, including so-called superdelegates, a mix of elected officials and party leaders who are free to back whom they like and change their loyalties. She has 1,034 toward the 2,383 needed for the nomination according to an Associated Press tally.
"She's on the path to win," said Steve Elmendorf, a Democratic strategist in Washington who was deputy campaign manager for presidential candidate John Kerry and is backing Clinton. "They're going to keep doing what they're doing because it's working."
The Sanders campaign held a press breakfast on Wednesday to argue that superdelgates and even pledged delegates can switch allegiance depending how the race is unfolding, and that upcoming contests in states such as Michigan, California and New York present an opportunity to show that Sanders can still win. His ability to raise money with small donations, as evidenced by the $42 million he collected in February, and a message focused on income inequality and the negative impact of trade deals, allows him to compete and win against Clinton.
"Some people are ready to write this campaign off as a message campaign," Sanders campaign manager Jeff Weaver told reporters. "But this is a campaign to win."
As Clinton knows from losing the 2008 nomination to Barack Obama after falling behind in the delegate count, it'll be difficult for Sanders to catch up without "winning everywhere and by large margins" because delegates are awarded on a proportional basis, Robby Mook, Clinton's campaign manager, said in a memo released on Wednesday. He said Clinton's lead in pledged delegates now is larger than any Obama had during the 2008 primary.
Clinton's ability to connect with black and Latino voters will make it difficult for Sanders in diverse states, Mook said. Clinton won South Carolina on Feb. 27 by almost 48 percent points with 86 percent support among black voters, and she drew on strong support from black voters and women to deliver a decisive performance on Super Tuesday.
"Over the upcoming weeks, we intend to steadily add to Hillary Clinton's already sizable lead in delegates, and as we do, it will become harder and harder mathematically for Sen. Sanders to ever catch up," Mook said in his memo.