What Happens Next After Irish Election Deadlock: Guide
by
Parliament due to meet on March 10; talks to begin afterwards

Alternatives include historic grand alliance or new election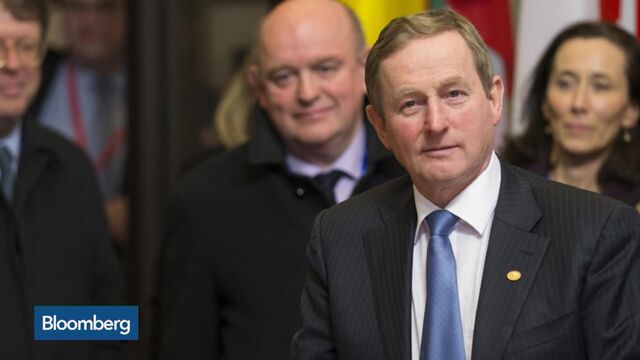 Irish Prime Minister Enda Kenny's coalition was routed in Friday's election, and no clear agreed alternative has emerged. So what happens next?
What just happened?
By 11 a.m. on Monday in Dublin, 148 of the 158 seats had been filled. Kenny's Fine Gael had 47 seats, Fianna Fail had 43, and Sinn Fein, 22. Kenny's outgoing partner, the Labour Party, had six. With at least 79 seats needed, only a first-ever Fine Gael and Fianna Fail combination could muster a stable majority.
The outgoing coalition drew about 35 percent in the election, compared to 55 percent in 2011. Fine Gael and Fianna Fail have about 50 percent.

What happens next?
Kenny's government continues in a caretaker role for now. It's unlikely that a new government will be formed when parliament meets again on March 10, as no party leader has enough support to fill the prime minister's role. Coincidentally, the nation's debt office is scheduled to hold its next Treasury bill auction the same day.
How will it play out after that?
Real negotiations between the parties may only start after March 10. While the two biggest parties said during the campaign they wouldn't govern together, Fine Gael's Charlie Flanagan said Monday that "immovable positions will not resolve the crisis and will result in an early return to the polls."
Bookmaker Paddy Power places 80 percent chance of both parties being in power together for the first time on January 1. "The ideological closeness between the two largest parties makes a center-right alliance the most probable one," Anthony Baert, an economist with ING Bank, said.
Another scenario could see Fianna Fail propping up a minority Fine Gael administration for a while, according to Conall Mac Coille, chief economist at Dublin-based securities firm Davy. "Such an unstable arrangement would struggle to be maintained beyond the next budget, scheduled for October," he said.
Could we see a second election?
Very possibly. Finance Minister Michael Noonan was reported as forecasting another vote by the end of the year.
What does all this mean for investors?
Certainly, Ireland is facing a bout of political instability. But "a fundamental change in Ireland's economy, based on openness to trade and investment, looks unlikely in the near terms," said RBC Europe Ltd. economists, including Timo del Carpio, in a note.
Deutsche Bank AG's chief euro-area economist, Mark Wall, said "neither a minority government nor a significant populist bloc in opposition matters as much to Ireland compared to its crisis periphery peers because the heavy-lifting policies in terms of economic adjustment and reform have already been implemented."
Yet, a long-running deadlock may unnerve some. Irish bonds will continue to lag European peers until there's more clarity on the political outlook, Danske analyst Pernille Bomholdt Henneberg said.
Market Reaction So Far
One word: muted. The spread between benchmark bonds and German securities of a similar maturity increased to 78 basis points on Monday from 76 basis points on Friday and 44 basis points six weeks ago. The benchmark ISEQ stock index fell 0.4 percent on Monday.
Before it's here, it's on the Bloomberg Terminal.
LEARN MORE