Jain to Advise Online Lender SoFi After Deutsche Bank Exit
by
He'll start in advisory role, likely joining the board later

Veteran executive, like Mack and Pandit, jumps to fintech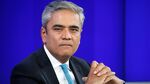 Anshu Jain just became the latest banking executive to answer Silicon Valley's call.
The former Deutsche Bank AG co-chief executive officer is joining Social Finance Inc., known as SoFi, the online lender said Sunday in a statement. Jain will begin as an adviser to the San Francisco-based company and probably take a seat on the board in the coming months.
Jain, 53, joins former Morgan Stanley CEO John Mack and ex-Citigroup Inc. head Vikram Pandit in migrating to fintech, the rapidly growing industry dedicated to disrupting banking. Over two decades, Jain helped build Deutsche Bank into Europe's biggest securities firm. He left in June as the company's profitability suffered amid stiffer regulation, a trading slump and years of government probes.
"It is a great pleasure to get involved with SoFi," Jain said in the statement. "As a rapidly growing leader in fintech, SoFi has become one of the most closely watched and dynamic forces in this evolving sector."
Jain joined Deutsche Bank in 1995 and rose to lead a corporate and investment banking division that produced most of the company's revenue. In 2012, he became co-CEO succeeding Josef Ackermann, who had held the top spot for a decade. 
SoftBank Link
A cascade of bad news followed as Jain and his co-CEO Juergen Fitschen worked to shore up the bank's capital, cut costs and boost returns. The lender was probed for tax evasion in carbon markets, raided by the police and ordered to pay a record $2.5 billion for its role in rigging benchmark interest rates known as Libor.
Within weeks of the Libor settlement, Jain emerged from the annual shareholder meeting with the lowest backing for management by investors in more than a decade. After Jain stepped down as co-CEO, an executive shakeup followed that saw the exit of other board members and investment-bank leaders. For months, Wall Street professionals have speculated about what he'll do next.
SoFi is still closely held but says it became profitable in 2014 and has funded more than $7.8 billion in loans. In September, it raised $1 billion from a group of investors led by SoftBank Group Corp., the Japanese telecommunications and Internet company whose president is Jain's friend Nikesh Arora.
Jain met with SoFi last year, starting talks that turned into the adviser role, CEO Mike Cagney said in an interview. The idea was to design a position that would draw on the former Deutsche Bank's executive's insight and risk-management background.
Pandit, CEO of Citigroup from 2007 to 2012, has funded financial-technology startups including online student-lender CommonBond since leaving the bank. Mack sits on the board of LendingClub Corp., which pioneered a model for matching borrowers and investors online.
Stanford Classmates
Begun in 2011 by classmates from Stanford University's business school, SoFi developed a popular way for graduates of top-tier universities to refinance their student debt. The company has since branched out into mortgages, personal loans and wealth management.
Cagney has said his goal is to render banks obsolete by rethinking the way financial-services firms relate to their customers. Key to his strategy is making new clients feel like they're joining an elite club of strivers. SoFi refers to customers as "members" and hosts networking events where they can mingle over cocktails and free food. In a Super Bowl ad this year, the company said it provides "great loans for great people."
SoFi has built a variety of services aimed at turning millennials into lifelong customers. If a borrower loses her job, SoFi provides free career coaching. If she wants to start a business, the lender has a program that allows borrowers to take a six-month break from loan payments and get introductions to venture capitalists.
To fuel its growth, SoFi also has had to win over debt investors. The company relies on credit facilities from other financial institutions to fund originations. Loans are typically held on its books for only a few weeks, then sold off to investors.
'Very Serendipitous'
One of the main challenges is figuring out how to use its balance sheet as the company grows. SoFi, which funded about $90 million of loans in 2012, now originates more than $1 billion a month, according to Cagney. It's considering ways to temper risk if it decides to hold onto the debt longer than usual during times of "market dislocation," he said.
Jain could help think through that strategy, as well as how to approach other capital-markets partners, Cagney said. The former Deutsche Bank chief may also advise on governance issues.
"It was very serendipitous," Cagney said. "We have a need, and he was available. I can't think of a better person to fill that role."
Before it's here, it's on the Bloomberg Terminal.
LEARN MORE