Irish Politicians Start Coalition Dance as Moody's Watches on
by and
Ireland's election produces no clear winner as Labour crumbles

PM Kenny may seek to form nation's first-ever grand coalition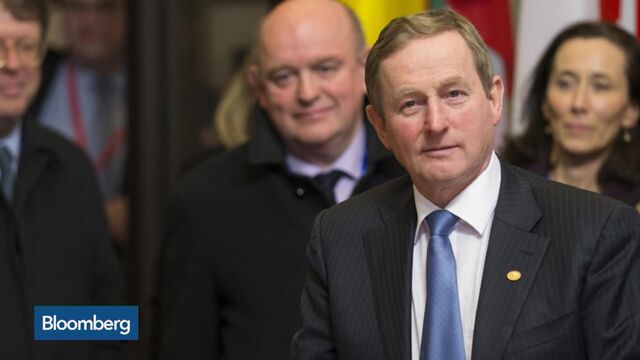 Ireland's biggest political parties need to drop their "immovable positions" to create a stable government, the nation's foreign minister urged, as Moody's Investors Service warned it's watching political developments closely after a deadlocked election.
Fine Gael and Fianna Fail, whose founders fought each other in a civil war that raged after the 1916 uprising, won about 50 percent of votes in a Feb. 26 general election. With the ruling coalition losing its majority and no clear constellation of allies gaining enough support to govern, a first-ever grand coalition between the two former enemies looks like the only viable option for a stable government.

"I don't believe hard-rock positions will work," Charlie Flanagan of Fine Gael said in an interview with broadcaster RTE on Monday. "Immovable positions will not resolve the crisis."
A century after Irish rebels fought British troops on the streets of Dublin, the country's biggest political parties must decide if they can overcome history. Yet while Ireland faces the kind of political stasis that's roiled Spain and Portugal this year if the groups don't combine, historical rancor and fears of how voters will respond will have to be left aside if an alliance is to be formed.
"Moody's will closely follow the Irish coalition negotiations now under way, " Kathrin Muehlbronner, lead analyst for Ireland at the ratings company, said in an e-mail statement. "But our main focus will be on the fiscal policy that the next government is likely to pursue."
By 12:30 p.m. on Monday in Dublin, 148 of the 158 seats had been filled. Prime Minister Kenny's Fine Gael had 47 seats, Fianna Fail had 43, and Sinn Fein, 22. Kenny's outgoing partner, the Labour Party, had six. With at least 79 seats needed, only a first-ever Fine Gael and Fianna Fail combination can muster a stable majority.
Since Kenny swept into power in 2011, Irish bonds have returned about 92 percent, the best performance in the world, and before the election, he warned of the dangers of an inconclusive outcome. Moody's, which cut Ireland to junk almost five years ago, lifted Ireland twice in 2014, but has yet to restore its A grade.

The spread between benchmark bonds and German securities of a similar maturity was little changed at 77 basis points on Monday. The yield on Ireland's 10-year bonds dropped to 0.87 percent from 0.89 percent on Friday. Ireland is rated A+ at Standard & Poor's and A at Fitch Ratings.
Kenny and Fianna Fail leader Micheal Martin have left open the possibility of a deal, though lawmakers from both sides expressed reservations. At this point, no contacts between the parties have begun, Billy Kelleher, Fianna Fail's director of elections said in a RTE interview Monday.
Parliament is due to choose a prime minister on March 10, and serious negotiations will only probably begin once that session fails to produce a winner. One alternative to a formal coalition would see Fianna Fail backing a minority Kenny administration before bringing it down at a time of its choosing.
While few ideological differences exist between the two parties, what separates them is history. Both parties' founders were part of a pro-independence movement that waged a guerrilla war against Britain after the 1916 rising.
A peace treaty five years later that partitioned the country triggered a bitter conflict between the Irish who supported the deal and those who opposed it. Fine Gael emerged from organizations that supported the accord, while Fianna Fail members fought against it.
"It's nearly time we forgot about the Civil War and got on with the interests of the country," said Mick Shivnan, who drives a tour bus around Dublin's 1916 historical sites dressed in the military garb of an Irish rebel from that era. "You can't be living in the past all the time."
Before it's here, it's on the Bloomberg Terminal.
LEARN MORE