George Kennedy, Tough-Guy Actor Who Turned to Comedy, Dies at 91
David Henry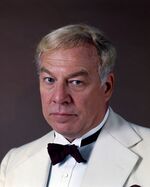 George Kennedy, the Oscar-winning American actor known for playing tough guys in movies such as "Cool Hand Luke" and "The Dirty Dozen" during the 1960s before handling comic roles in the "Naked Gun" films, has died. He was 91.
He died Feb. 28 in Boise, Idaho, where he lived since 2002, the Associated Press reported Monday, citing his grandson, Cory Schenkel.
Kennedy was cast in mainly supporting roles in about 200 films and television shows during a career that lasted more than five decades. At 6 feet 4 inches with a deep voice, he had an imposing presence that made him convincing as a thuggish prisoner in "Cool Hand Luke" in 1967, for which he won an Academy Award, and as a U.S. Army officer who trained a unit of 12 convicted criminals to land behind enemy lines and kill Nazi soldiers in World War II in "The Dirty Dozen."
He also appeared on the hit TV series "Gunsmoke" in the 1960s and in disaster-themed films such as "Earthquake" and the "Airport" movies during the 1970s.
Later, Kennedy was among a group of actors, including Leslie Nielsen and Lloyd Bridges, who converted to comedy after building careers playing no-nonsense characters. His role as police Captain Ed Hocken set up punch lines delivered by Frank Drebin, played by Nielsen, in the "Naked Gun" series. The three films began in 1988 and grossed about $217 million in U.S. theater ticket sales, according to Box Office Mojo, a film industry website.
"I love comedy perhaps more than anything else," Kennedy said in a 2011 interview with Smashing Interviews magazine. "But believe me, if you tell a joke 40 times in front of a camera it isn't necessarily even funny anymore. It is painful."
Early Years
George Harris Kennedy Jr. was born Feb. 18, 1925, in New York. His father was a pianist and orchestra leader who died when Kennedy was 4, and his mother was a classical dancer.
After a lonely childhood and the struggle to survive the Great Depression alone with his mother, Kennedy attended Chaminade High School in Mineola, New York. He then joined the U.S. Army Air Corps before switching to the Army, because of his height, to fight in World War II, according to his 2011 memoir, "Trust Me." He served 16 years in the Armed Forces.
Kennedy credited his acting ability to his early tendency to talk to himself and act out the roles of other people while he was alone as a child while his mother was working.
"I either talked to myself or I didn't talk to anybody," he said in the interview. "There was nobody there."
After working as a military consultant on "The Phil Silvers Show," Kennedy was cast on the TV series "Perry Mason" "Dr. Kildare" and "Bonanza" and appeared in the films including "The Flight of the Phoenix" and "The Sons of Katie Elder" in 1965.
Failed Retirement
Following the first "Naked Gun" movie, he remained active in Hollywood doing voice-overs in animated works such as 1997's "Cats Don't Dance" and the children's film "Small Soldiers" in 1998. He also was in the hit TV series "Dallas" and the afternoon soap opera "The Young and the Restless." His attempt to retire lasted five years before resuming his career in 2003.
He was married four times, twice to the same woman, Norma Wurman. Kennedy and his wife of more than 30 years, the former Joan McCarthy, raised four adopted children.
Before it's here, it's on the Bloomberg Terminal.
LEARN MORE