Apple Wins in Brooklyn Battle Over Unlocking iPhone
by and
Judge says Apple may refuse to help U.S. in encryption fight

Ruling splits with California court favoring prosecutors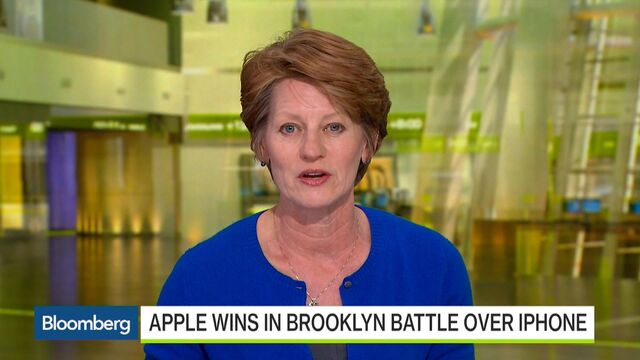 Apple Inc. won a pivotal clash with the U.S. over privacy rights, with a Brooklyn judge ruling that the company doesn't have to help unlock a drug dealer's iPhone.
For months, Apple has rebuffed U.S. requests that it assist investigators seeking to crack into encrypted iPhones. The battle burst into public after a California judge this month ordered the company to aid prosecutors seeking access a terrorist's phone, but by then Apple had spent months in a Brooklyn court fighting over the drug dealer's device.
On Monday, Magistrate Judge James Orenstein said the government's demands on Apple were impractical and excessive.
"It would be absurd to posit that the authority the government sought was anything other than obnoxious to the law," Orenstein said in a 50-page opinion.
After helping prosecutors unlock at least 70 iPhones, Apple last year stopped cooperating and said the company would no longer serve as the government's helper. Apple Chief Executive Officer Tim Cook said this month that U.S. demands for iPhone access are a chilling attack on privacy. The government disagreed, saying Apple is more concerned about its marketing and brand identity than about the safety of the public.

Embolden Apple
Monday's decision comes on the eve of Congressional testimony from Apple General Counsel Bruce Sewell and is certain to embolden Apple, which has fought its case in the courts of law and public opinion. At a minimum, it offers the Cupertino, California-based company a legal basis for defying the government. Should the issue reach the Supreme Court, as is likely with the California case regarding the phone used by the gunman who killed 14 people in San Bernardino in December, Orenstein's opinion may inform the high court's decision.
FBI Director James Comey and Manhattan District Attorney Cyrus R. Vance Jr. are also due to appear before the House Judiciary Committee to advocate for the government's push to get more access to encrypted smartphones to help with investigations. While the FBI has stressed that the California case is about only the one phone, Vance has said that Apple's stance has stymied numerous other investigations.
Lasting Impact

With Apple and other companies building even more robust encryption, the outcome of the Brooklyn and California cases could have lasting impact on personal privacy, national security, law enforcement and the technology industry. Orenstein is the first judge to thoroughly explore what the government can and cannot access. The government will appeal.
"This phone may contain evidence that will assist us in an active criminal investigation and we will continue to use the judicial system in our attempt to obtain it," Justice Department spokeswoman Emily Pierce said in an e-mailed statement.
The ruling should help in the California case because Orenstein fully supported Apple's arguments, a company executive said in a call with reporters after the ruling.
In refusing to uphold the warrant, Orenstein focused on the government's use of the All Writs Act, a more than 200-year-old law that prosecutors used to demand that Apple help access data on locked phones.
Orenstein said the government's demands are too "burdensome" because prosecutors have begun demanding repeatedly that Apple unlock other iPhones.
Ask Congress
Echoing comments earlier this month from Cook, Orenstein said that the government should go to Congress for authority to access encrypted phones.
How best to balance privacy and security "is a matter of critical importance to our society, and the need for an answer becomes more pressing daily, as the tide of technological advance flows ever farther past the boundaries of what seemed possible even a few decades ago," Orenstein said.
Legislators, not judges, are best "equipped to consider the technological and cultural realities of a world their predecessors could not begin to conceive," he said.
The Brooklyn case is one of at least dozen across the country in which Apple has recently refused to help investigators access an iPhone. Prosecutors there are seeking help accessing an older operating system, iOS 7, by bypassing the user's pass code and downloading the data.
Pass Code
The phone in California uses a newer operating system, with tighter encryption standards that make it virtually impossible to access content of a phone without a pass code. U.S. investigators can still attempt to get the data through a "brute force" tactic of entering unlimited numbers, but extra protections may erase all data on a phone if the wrong code is entered more than 10 times.
The government said its only concern in California is getting Apple to disable that feature in that one iPhone. Apple called the U.S. demand "dangerous" in a Feb. 25 legal brief because it would force the company to create an entirely new operating system vulnerable to "hackers, identity thieves, hostile foreign agents and unwarranted government surveillance."
Months before the San Bernardino attack, both Apple and the government recognized that the legal dispute was so fundamental that they pressed Orenstein for a ruling even though the defendant in the crystal meth conspiracy case had pleaded guilty. The legal principles courts establish may be controlling regardless of a phone's degree of encryption.
Cook's Letter
Since Cook published a Feb. 16 letter declaring that Apple would challenge the California magistrate's order, law enforcement officials across the country have rallied behind the Justice Department.
Apple's stand puts "profit over safety," said Jonathan Thompson, executive director of the National Sheriffs' Association.
"This has nothing to do with privacy," Thompson said. "It's all about money and their brand."
Tech Sector
Big names in the tech sector came to Apple's defense after the California order. Microsoft Corp. said it would file a legal brief in support of Apple. Google Chief Executive Officer Sundar Pichai said the government's request could spur "a troubling precedent." WhatsApp co-founder Jan Koum said on his Facebook page, "We must not allow this dangerous precedent to be set. Today our freedom and our liberty is at stake."
The Brooklyn decision will have no direct bearing on the California case, where Magistrate Judge Sheri Pym issued an order even before giving Apple an opportunity to weigh in. The company has now filed its legal briefs, and Pym will consider the case further and may consider Orenstein's decision even if not bound by it.
The case is Order requiring Apple, Inc. to assist in the execution of a search warrant issued by the court et al, 1:15-mc-1902, U.S. District Court, Eastern District of New York (Brooklyn).
Before it's here, it's on the Bloomberg Terminal.
LEARN MORE