Trump Passes Up Chance to Disavow White Supremacist Support
By
Anti-Defamation League called on billionaire to condemn them

Candidate defends retweeting of quote from dictator Mussolini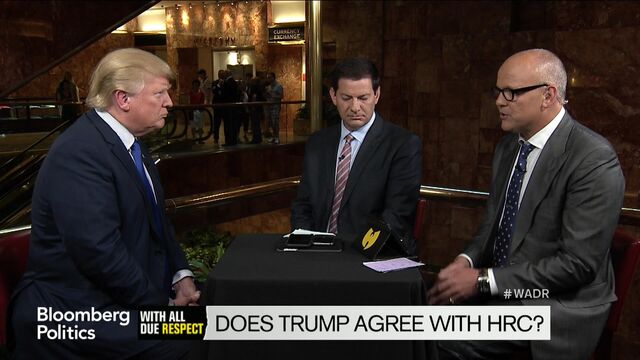 Billionaire real estate developer Donald Trump came under fire Sunday for passing up a chance to condemn former Ku Klux Klan leader David Duke and other white supremacists, as well as for retweeting a quote from Italian fascist Benito Mussolini.
"I know nothing about David Duke," Trump said on CNN's "State of the Union" television show. "I know nothing about white supremacists."
Duke voiced backing for Trump on his radio program recently, and praised him for "taking on the Jewish establishment," although he stopped short of endorsing the front-runner for the Republican presidential nomination. He also said that "voting against Donald Trump at this point is really treason to your heritage."
QuickTake How the U.S. Elects Its Presidents
Trump's top Republican competitors jumped on the CNN remarks. On Feb. 25, the Anti-Defamation League, an advocacy group that fights anti-Semitism and other forms of bigotry, called on Trump on Feb. 25 to distance himself from Duke and other white nationalists, and to publicly condemn their racism.
Asked to do that on CNN, Trump said he was "pretty sure" he'd never met Duke, a former state representative in Louisiana who has also campaigned for the U.S. Senate and various other public offices.
Rivals Pounce
"You wouldn't want me to condemn a group that I know nothing about," Trump added. "If you would send me a list of the groups, I will do research on them. And, certainly, I would disavow if I thought there was something wrong."
Trump was asked about his appeal to white supremacists, and support from Duke, during an Aug. 26 interview on Bloomberg Television's "With All Due Respect." "I don't know anything about him," Trump said of Duke at the time, noting "I don't need his endorsement. I certainly wouldn't want his endorsement."
Asked if there was something in his message that would appeal to white supremacists, Trump said, "I hope there's not."
When reporters in Texas asked him on Feb. 26 about Duke's comments, Trump said, "I didn't know he endorsed me. David Duke endorsed me? I disavow. OK?" Trump reiterated the point in a tweet Sunday after his CNN appearance, including a link to video of his Feb. 26 comments.
Mussolini Retweet
Seizing an opportunity, Florida Senator Marco Rubio said at a Virginia rally that "we cannot be a party that nominates someone who refuses to condemn white supremacists and the Ku Klux Klan." Senator Ted Cruz of Texas posted on Twitter: "Really sad. @realDonaldTrump you're better than this. We should all agree, racism is wrong, KKK is abhorrent."
The former reality television star was also forced on Sunday to defend his retweet of a quote from Mussolini. "It is better to live one day as a lion than 100 years as a sheep," Trump retweeted, without attributing the line to the dictator who allied with Nazi Germany in World War II. On NBC's "Meet The Press," Trump said the line was "a very interesting quote," adding, "what difference does it make whether it's Mussolini or somebody else?"
The website Gawker took credit for luring Trump into retweeting the quote, saying it created a Twitter account in December specifically for the purpose of fooling the candidate into doing so.
Trump held a substantial lead last week in the southern U.S. where Republican voters in several states have their say in primaries on March 1, known as Super Tuesday. An online Bloomberg Politics poll released Feb. 25 showed Trump was backed by 37 percent of likely Republican presidential primary voters in the seven states surveyed, while Rubio and Cruz were tied at 20 percent.