Irish Grand Alliance Sparring Begins as Kenny to Win Most Seats
by and
Irish PM Kenny's Fine Gael to finish 10 seats ahead of rival

With no party have majority, historic grand alliance possible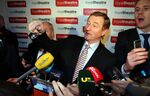 Irish Prime Minister Enda Kenny's Fine Gael is on track to remain biggest party in the nation's parliament, as politicians sparred over the prospect of forming a unprecedented grand coalition to stave off the instability roiling Spain and Portugal.
At 8:30 p.m. in Dublin on Sunday, 145 of the 158 seats were filled. Kenny's Fine Gael had 46 seats, Fianna Fail had 42 seats, with Sinn Fein taking 22. Fine Gael will probably finish 10 seats ahead of its closest rival, Jobs Minister Richard Bruton said in an interview with RTE on Sunday.
"We need a stable government, " Bruton said, leaving the door open for an alliance with Fianna Fail, its traditional rival. "One that can implement a coherent economic plan."

Like governments in Greece, Portugal and Spain, Kenny suffered massive losses in Friday's election, feeling the force of popular wrath over spending cuts and tax increases. Now Kenny's only option to provide political stability is a pact with Fianna Fail, ending decades of rancor stemming the nation's civil war. The only clear alternatives center on Kenny leading a minority administration or calling a second election.
"There will be huge pressure on Fine Gael and Fianna Fail to come together or, if they don't, to go to the polls immediately," said Ryan McGrath, head of fixed-income strategy at Cantor Fitzgerald LP in Dublin.
Late on Saturday, Kenny said he'd take 48 hours to examine the outcome. A period of calm is now needed, senior Fianna Fail lawmaker Timmy Dooley said in an interview with RTE. Parliament is due to meet again on March 10 in Dublin.
Voters had "absolutely no desire to see a coalition between Fine Gael and Fianna Fail, " Dooley said. "We made it very clear that we weren't going to enter a coalition with Fine Gael and Sinn Fein."
One alternative to a formal coalition involves Fianna Fail backing a minority Kenny administration before bringing it down at a time of its choosing.
"Fianna Fail will have a much stronger bargaining position because each vote will be one whether it supports government," said Eoin O'Malley, a politics lecturer at Dublin City University. "It won't be locked in. It could then vote against the government when it pleased."
Civil War
Fine Gael and Fianna Fail trace their roots back to the nation's bitter Civil War, a battle over the treaty which partitioned Ireland in the 1920s. Fianna Fail emerged from groups which opposed the 1921 peace treaty with the U.K. and Fine Gael has its roots in organizations which supported the agreement.
Yet, few ideological differences exist between the two sides and a coalition between them could avoid the instability roiling Portugal and Spain. Though Fine Gael pushed for higher tax cuts during the campaign, both parties respect European rules limiting the deficit and vow to protect the nation's 12.5 percent corporate tax rate.
"There is hardly the width of a cigarette paper between them on most policy issues, " said Philip O'Sullivan, an economist at Investec Plc in Dublin.
Before it's here, it's on the Bloomberg Terminal.
LEARN MORE