Chinese Tycoon Loses 37 Million Followers After Faulting Xi
Bloomberg News
Internet regulator closes Ren Zhiqiang's social media accounts

Outspoken property mogul questioned clampdown on state media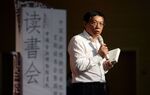 China's top Internet regulator closed the social media accounts of an influential, retired property developer who criticized President Xi Jinping's campaign to tighten control over state-run media.
Sites including Sina Corp.'s Weibo and Tencent Holdings Ltd.'s QQ were told to shut down accounts held by Ren Zhiqiang for spreading "illegal information," a spokesman for the Cyberspace Administration of China said in a statement Sunday. Ren, the former chairman of Huayuan Property Co., is known for airing outspoken views to his more than 37 million Weibo followers. He didn't reply to a text message seeking comment.
"Internet users had reported that Ren Zhiqiang's account was continuously publishing illegal information, and the impact was vile," said Jiang Jun, the regulator's spokesman. "All online platforms should refuse to provide channels for illegal speech."
The development comes days after Xi toured top media outlets in Beijing and issued orders that they "reflect the will" of the party and "preserve the authority of the party." The edict represented the latest in a series of Xi moves to centralize power and rein in dissent, including jailing reporters, detaining influential Internet commentators and passing rules to keep party members from criticizing the leadership.
Ren is a friend of the Communist Party's discipline chief, Wang Qishan. He told Bloomberg News in an interview last year that the two share frequent phone calls and meet a few times a year. Ren stepped down as chairman of Huayuan Property in 2014.
'People's Government'
Shortly after Xi's Feb. 19 media tour, Ren published a post on his Weibo account criticizing the president's assertion that the state media serve the party, instead of the taxpayers who fund its budget. "When does the people's government turn into the party's government?" he said. The posts were deleted.
The following Monday, a news site affiliated with Beijing's municipal party committee published a commentary accusing Ren of spreading "anti-Communist Party" thought. The retired developer represented capitalist forces trying to promote Western values and topple the party, the commentary on the site Qianlong said.
While an order targeting the social media accounts of a single individual is unusual, the Communist Party in 2013 launched a crackdown on people who use big Web followings to criticize the government.
In August of that year, Beijing police detained angel investor Charles Xue, an American citizen known for sharing critiques of public policy with his 12 million Weibo followers. Xue was released without charge after a video of him confessing to patronizing prostitutes and endorsing the government's Internet crackdown was aired by the state broadcaster, China Central Television.
— With assistance by Brendan Scott, and Keith Zhai
Before it's here, it's on the Bloomberg Terminal.
LEARN MORE