Ireland's Bond Market Darling Faces Election-Day Judgment
By
Polls suggest Irish Prime Minister Kenny may lose majority

Campaign marked by gaffes and setbacks for Kenny's coalition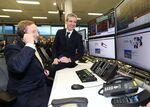 As global financial markets wobbled last month, Irish Prime Minister Enda Kenny headed to an opening ceremony at Credit Suisse Group AG's new trading room in Dublin.
"Sell, for Christ's sake," the 64-year-old jokingly bellowed down a dealer's phone in the city's international financial district, ignoring Deputy Prime Minister Joan Burton cheery warning: "Don't touch anything."
The moment captures a nervousness around Kenny's bid to win a historic second consecutive term in Friday's election. While Irish bonds were world-beaters during his five years in office, opinion polls show the country could become the latest euro member to produce an inconclusive result and weeks of wrangling.
Lauded abroad by bankers and investors, Kenny is regarded less favorably at home. Under his stewardship, Ireland has reclaimed its spot as Europe's top-performing economy. Yet, his campaign has been marked by missteps, heightening the risk that the political instability dogging Spain and Portugal will spread to Dublin.
"The campaign has played to his weakness," said Eoin O'Malley, a politics lecturer at Dublin City University. "It's not really his fault, it was a strategic error to put him at the front and center of the campaign."

Voter Verdicts
Ireland's 3.2 million-strong electorate go to the ballot box on Friday to give their verdict on Kenny after voting got going on remote islands on Thursday. Polling started at 7 a.m. in Dublin and closes at 10 p.m. A first indication of the result will emerge when state broadcaster RTE releases its exit poll on Saturday at about 7 a.m. Counting of votes begins at 9 a.m. Turnout was reported to be steady, state-broadcaster RTE said, without giving details.

"Before the last election, Enda Kenny was seen by some as a liability," said Damian Loscher, managing director of pollster Ipsos/MRBI in Dublin. "Once in government he got credit for steadying the ship, but the halo has slipped again."
A series of polls over the past week put support for Kenny's Fine Gael-Labour coalition at about 35 percent, though a poll released on Thursday gave the alliance 40 percent. He may need to look to his traditional rival Fianna Fail to stay in power.
"If an historic grand coalition were the only possible outcome with a mandate to govern, both parties would come under extreme pressure to form a coalition for the good of the nation.," said Ryan McGrath, head of fixed-income strategy at Cantor Fitzgerald LP. "This outcome would be very market-friendly."
The achievements of Kenny, who declined to be interviewed, have been considerable. He successfully navigated Ireland out of its three-year international rescue program, economic growth has surged, bond yields have dropped below the U.K.'s and the financial system no longer faces existential threats.

Irish bonds returned 92 percent since he took office in March 2011, the best performance in the world and more than twice the average for the euro region, according to Bloomberg indexes. The stock market soared over that time, with the benchmark ISEQ Index rising 68 percent in dollar terms.
Necessary Pain
"In a crisis as severe as Ireland's, decisive and consistent action is necessary," said U.S. billionaire Wilbur Ross, who invested in Bank of Ireland Plc in 2011, helping it become the only major domestic lender to avoid nationalization. "He delivered on that objective, even though many things he did were unpopular politically.''
Disillusionment triggered by the introduction of new taxes has been amplified by Kenny's occasional blunders. During the campaign, the premier was forced to apologize for describing political opponents as "whingers," and drew fire after saying that the "vast majority of people don't understand economic jargon."
Kenny's penchant for homespun wisdom also grates on some voters. Last year, he spoke of a "man who stopped me with two pints of beer in his hand" to complain about the introduction of water charges. "Two pints in one hand?" Sinn Fein leader Gerry Adams asked. "They must be some big hands, right?"
Human Error
At a pre-election event in Dublin on Wednesday, Kenny recognized his faults. "I'm human, I make mistakes," he said.
For all that, his Fine Gael party will probably be the largest after the election, polls show. He's on track to be become the first leader of his party to win a second straight term, even if he has to scramble to form a so-called rainbow alliance with more than two parties, or a first-ever grand coalition with Fianna Fail.
"One of Kenny's talents is that he can pick a team and he picks them reasonably well and he lets them get on with it," said Alan Dukes, who led Fine Gael between 1987 and 1990. "One of the things that strikes me about Enda is that his endurance and stamina are absolutely incredible."