United Technologies Again Spurns $90 Billion Honeywell Offer
by and
Offer of $108 a share is `grossly' undervalued, target says

Honeywell calls combination `compelling, transformational'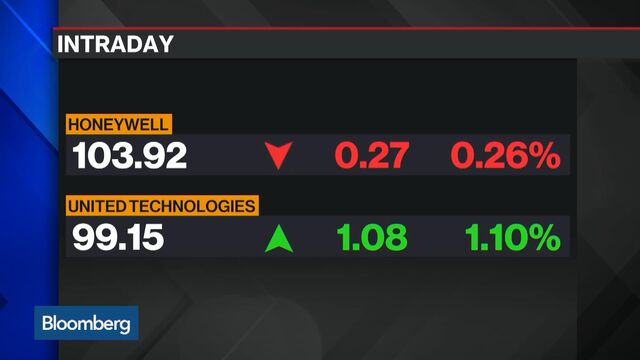 United Technologies Corp. forcefully rejected Honeywell International Inc.'s purchase offer as the companies traded public statements over the proposed $90 billion tie-up.
Honeywell's $108-a-share bid this month "grossly undervalues" United Technologies, its chief executive officer said in an open letter filed Friday with the U.S. Securities and Exchange Commission. A deal would likely be blocked by antitrust regulators or require heavy divestitures, CEO Gregory Hayes said, reiterating similar comments he made this week.
"Putting aside the insurmountable regulatory risks, the proposal is not an attractive deal for UTC's shareholders and does not reflect UTC's strong long term outlook," he said. United Technologies also released slides listing other deals blocked by regulators and detailing questions raised by customers including Boeing Co. and Airbus Group SE.
United Technologies fell less than 1 percent to close at $97.69 in New York. The stock is up 11 percent since Feb. 19, the last trading day before the Honeywell offer became public. Honeywell declined 1.1 percent to $103.03 Friday.
Honeywell's Gambit
The United Technologies' release came a few hours after Honeywell made public a 10-page presentation saying a tie-up would create $72 billion in combined shareholder value.
By publicizing its detailed accounting of the offer, Honeywell put pressure on United Technologies to reconsider a combination that would have annual revenue in excess of $90 billion, selling wares spanning jet engines, thermostats and elevators. Honeywell said in a statement that it released the slide show in response to investor inquiries.
The proposed combination would lead to cost savings of $3.5 billion in four years, according to the Honeywell slide show. The combined entity would raise $36 billion in debt, Honeywell said in the 10-page presentation, which it delivered to United Technologies executives on Feb. 19. The offer values United Technologies at about $90 billion excluding debt.
'Compelling, Transformational'
The transaction is "strongly worth pursuing," Honeywell said in the presentation, which was made to Hayes and United Technologies Chairman Edward Kangas. Honeywell chief David Cote would serve as CEO and chairman of the resulting company, according to the proposal. The combination is a "compelling, transformational opportunity for both sets of shareholders," Honeywell said.
The companies together would have operating margins of about 20 percent and annual cash flow of about $10 billion, which would allow for "rapid deleveraging" and flexibility for investment, the Honeywell presentation said.
United Technologies on Friday put cost savings at about $2.5 billion and said the deal could destroy up to $7 billion of value because of divestitures and concessions to aerospace customers.
The possible deal "still has a big question mark over it because each side is making a strong case," Deane Dray, an analyst at RBC Capital Markets, said in an interview. "We'll see who blinks. We'll see who brings a bigger gun to the fight, who escalates and how."
Selling Assets
A deal may work if Honeywell is willing to divest about $10 billion of assets, Peter Arment, an analyst at Sterne Agee CRT, said Friday in a note circulated before the Honeywell release. Honeywell might need to increase its offer to about $115 a share, he said.
United Technologies in its filing cited other deals, including General Electric Co.'s effort to sell its appliances business to Electrolux AB, that were opposed by regulators and referred to concerns of customers such as planemakers Airbus and Embraer SA.
"It is important for us to express Embraer's concern on this potential merger due to the concentration it would generate in our supply chain," Embraer CEO Frederico Curado said in an interview. "Honeywell is one of our big suppliers and UTX is another. A merger wouldn't be very positive for us."
Before it's here, it's on the Bloomberg Terminal.
LEARN MORE