Apple's Shareholders Offer Support for Stance Against U.S.
by and
Long audience applause for Apple's legal fight in terror case

Privacy advocate, Jackson praise resistence to FBI demands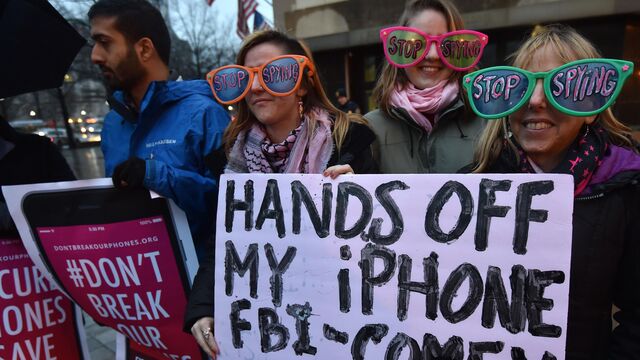 Polls show a majority of Americans back the U.S. government in its fight to compel Apple Inc. to help open a terrorist's iPhone. But at Apple's annual shareholder meeting on Friday, it was all vocal support for Chief Executive Officer Tim Cook's stance. 
When Cindy Cohn, executive director of the Electronic Frontier Foundation, rose during the meeting at Apple headquarters in Cupertino, California, to praise the company, her words sparked a long round of applause from the audience, including Cook on stage.
"Make no mistake, all of us have our security at stake here," Cohn said. Cook then introduced the Rev. Jesse Jackson, who thanked the CEO for the company's efforts to fight a court order that would force Apple to aid the Federal Bureau of Investigation in the case. 
"We oppose the unprecedented government over reach," Jackson said. "Some of us remember the days of Hoover and Nixon and McCarthy," he said referring to former FBI Director J. Edgar Hoover, President Richard Nixon and Senator Joseph McCarthy.
Apple filed its legal arguments Thursday opposing a judge's order that would require the company to create tools that would make it easier for FBI investigators to unlock the phone used by one of the attackers in the December massacre in San Bernardino, California.
"We do these because these are the right things to do," Cook said Friday.
Shareholder Support
"I'm entirely with Tim Cook on this," Jerry Brozell, who described himself as a long-term shareholder and owner of multiple Apple products, said after the meeting. "If they get the right to go into one phone then they can go into my phone. Why do they need that?"
Fifty-one percent of Americans said Apple should unlock the iPhone to assist the FBI investigation into the attacks, which killed 14 people, according to a survey by Pew Research Center. Some 38 percent said Apple shouldn't do so.
At Apple's meeting, the numbers were different. No Apple shareholders voiced displeasure or questioned Cook's actions during the question-and-answer portion of the event.
(An earlier version of the story corrected who introduced Jackson at the event.)
Before it's here, it's on the Bloomberg Terminal.
LEARN MORE