Photographer: David Paul Morris/Bloomberg
Visas May Bring More Fish Trimmers to Alaska and Coaches to Connecticut
Congress may act to allow more lower-skilled temporary workers to stay in the U.S. Longer. Here's where those workers go and what they do.
by and
The current U.S. spending bill proposal in the House of Representatives includes plans to extend some H2-B visas, allowing more lower-skilled temporary workers to stay in the U.S. for longer.
That may help companies in Texas. Employers successfully petitioned the Department of Labor to hire about 14,195 foreign workers for jobs in the Lone Star state under the H-2B visa program in 2014, according to DOL data. That's the most of any state and more than double that of second-ranked Florida, with 6,477. After the DOL certifies visa applications, they are processed by the Department of Homeland Security and then by foreign offices of the State Department, so that not all result in hiring.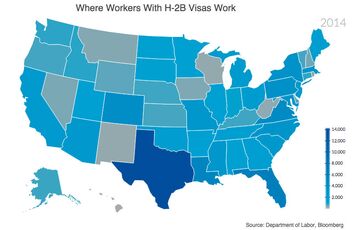 The visas allow companies to hire low-skilled workers to fill specific non-agricultural jobs. Like the H-2A program for seasonal farm laborers, H-2B visas are designed to help businesses find workers for jobs that they find difficult to fill.
About 35,000 of the applications approved by the Department of Labor were for landscapers and groundskeepers, according to the 2014 data. That's more than a third of all qualified H-2B visas. Texas landscaping companies obtained the visas for about 6,000 landscapers that year.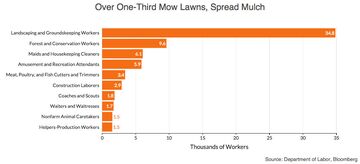 The types of jobs employers petitioned to fill under the visa program varied by state. Alaska and North Dakota employers most often sought jobs categorized by the Department of Labor as 'meat, poultry and fish trimmers'. In Connecticut, employers most often filed for permission to fill positions in the 'coaches and scouts' category. Filings show nearly all of these jobs were coaches and trainers of teens and younger children playing in private soccer leagues.
The tenth most popular positions sought nationwide were jobs classified as 'helpers-production workers' by the Department of Labor. The positions allows factories, slaughterhouses and construction projects to hire helpers, a job classification for less skilled workers on a lower pay scale than apprentices or journeymen at the same job site.
For more data from the Department of Labor, see Office of Foreign Labor Certification Annual Report, 2014
 This StoryChart was produced by Bloomberg Brief and originally ran online here.
Before it's here, it's on the Bloomberg Terminal.
LEARN MORE