Intel and Samsung Are on a Collision Course
The leading chipmakers push into each other's businesses.
By and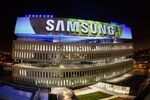 During this year's Super Bowl, the ad making the biggest statement was well beyond the walls of Levi's Stadium. Throughout the big game, attendees and some eagle-eyed TV viewers could see pitches for Samsung's memory chips and processors—not within the stadium, but on a giant display almost 2 miles away. Samsung turned the top two floors of its new Santa Clara chipmaking headquarters into a makeshift digital billboard measuring 30 feet by 300 feet. Along with the Denver Broncos and Carolina Panthers, one other important group could see its ads: anybody an additional mile beyond the Super Bowl, at the headquarters of Intel.
For 40 years, Samsung's semiconductor operation has been looking up at Intel's. These days, though, it's more of a sidelong glance. Intel remains the world's No. 1 chipmaker, and in some ways is stronger than ever, supplying processors for 99 percent of the world's servers and 95 percent of laptops. But Samsung has solidly established itself as No. 2 in the past few years by taking control of the faster-growing memory chip business. (Intel more or less abandoned that line in 1985.) For the first time, the two companies are beginning to seriously eye each other's customers.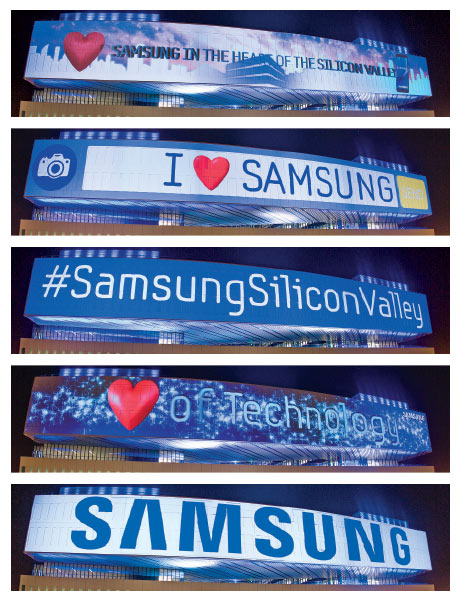 Late last year, Intel said it would spend as much as $5.5 billion to jump back into production of modern memory chips at a plant in the Chinese city of Dalian. "This is probably one of the first memory investments we've made in our Intel factories in quite a few years," Chief Executive Officer Brian Krzanich said on a November call with investors. In an interview, Kelvin Low, Samsung's senior director of foundry marketing, says his company is gearing up to produce two big sets of server chips using "the most advanced techniques"—meaning they're intended to compete with Intel's. "We are proactively entering that space," he says. "The reasons are obvious." Samsung declined to comment specifically on competition with Intel, which declined to comment for this story.
The chipmakers' strengths complemented one another when the PC was the primary means of computing and getting on the Internet and there was plenty of growth to go around. In the mobile era, upfront manufacturing expenses have grown so large that any effort to set up a product line has become a serious risk. "It's been coming to a head for the past couple of years, and it's going to accelerate," says Shane Rau, an analyst for market researcher IDC.
A new chip plant with the latest production equipment costs as much as $10 billion, researcher IHS estimates. Most of that money goes toward the machinery, which becomes obsolete within five years and must be replaced if companies want to remain competitive. Adding pressure, device makers want fewer suppliers to provide them with more pieces of the final product, ideally fused together.
Samsung has turned some of these problems to its advantage by striking deals to produce chips designed by Apple (for the iPhone) and Qualcomm (for most every phone). Low says the company has already signed contracts to make server chips, but he wouldn't name any customers. Intel has had a tougher time breaking into mobile—its chip revenue declined 2 percent last year, while Samsung's grew 20 percent. "Historically, Intel has had a huge R&D budget that couldn't be challenged by anybody," says IHS analyst Len Jelinek. Samsung's budget, he says, represents the first real "competitive effort."
That doesn't mean it'll be easy to take on Intel, which has only gained ground in servers and PCs. Intel's Krzanich said in November that his company's supply of hard drives made of memory chips, part of a venture with chipmaker Micron, has helped boost profits. The company is also promising a new type of memory that's faster than today's flash chips.
Down the road, the big question is whether one company can better prepare for the wave of Web-connected appliances and vehicles known as the Internet of Things, says Lee Seung Woo, an analyst at IBK Securities. "All chipmakers are trying to make everything for when IoT eventually kicks off," Lee says. "I don't think they can start from scratch and outrun each other in their respective dominant territories."
For now, Intel and Samsung are each spending $12 billion a year on research and development as they try to set the pace in devising faster, smaller, more efficient chips. (An undisclosed portion of Samsung's R&D budget also funds work on its screens.) Intel is working to introduce its latest mobile chips and modems without the kinds of delays common in the last decade, according to Krzanich. Samsung's goal is to overtake Intel in chip sales. "It's difficult to say when we'll achieve our goal," says Kim Ki Nam, Samsung's head of logic chips. "We still have a big gap. They're a good company." But make no mistake: That is the plan.
The bottom line: Intel and Samsung are positioning themselves for bites at each other's primary chip markets.
Before it's here, it's on the Bloomberg Terminal.
LEARN MORE