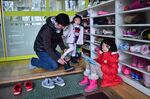 South Korea's efforts to have men share more of the responsibility for rearing kids is starting to take hold, thanks to more generous child-care benefits for dads taking paternity leave and changing social attitudes.

Popular reality TV shows like "Where are we going, dad?" and "The return of Superman" have played a part in recent years by showing male role models looking after kids and taking them on trips while moms enjoy a little more freedom. "Where are we going, dad?" was so popular that local versions of the show popped up in China and Vietnam.

For South Korea, having men spend more time with their kids is also about making it easier for women play a bigger part in the workforce. That's vital for the economy because the nation's working-age population is set to shrink as more of the baby boomer generation retires.

While the chart below shows a rapid increase in men taking paternity leave, South Korea still has a long way to go. President Park Geun Hye's administration wants men to account for 15 percent of people on child-care leave by 2020, compared with about 6 percent last year.