U.S.-Russia Deal Best Chance to Keep Syria Whole, Kerry Says
by and
Limited cease-fire agreement set to take effect Feb. 27

Islamic State steps up attacks in Homs and on road to Aleppo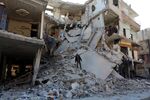 An accord between the U.S. and Russia to scale back violence in Syria starting this weekend is the best opportunity to keep the country intact as a five-year-old civil war rages, Secretary of State John Kerry said.
Kerry, testifying Tuesday to the Senate Foreign Relations Committee in Washington, said time is running out for Russia to support a transition process toward a government that doesn't include Syrian President Bashar al-Assad. With the conflict having killed more than 260,000 people and displaced an additional 23 million, progress is needed in the next two or three months or "it may be too late to keep it as a whole Syria," Kerry said.
"We are going to see very quickly if they are serious" about a political transition, Kerry said. While Russia and Iran back Assad, "as long as Assad is there you cannot stop the war," he added.
The limited cease-fire agreement announced Monday, which is supposed to take effect on Feb. 27, includes Russia, the U.S.-backed coalition fighting Islamic State terrorists, Assad's government and some opposition groups. It doesn't limit attacks against Islamic State, the al Qaeda-linked Nusra Front and other groups that the United Nations may list as terrorists.
No 'Plan B'
Senator Bob Corker, chairman of the Foreign Relations Committee, said he doesn't think the U.S.-Russia accord will hold.
"I don't think Russia believes that anything is going to happen," said Corker, a Tennessee Republican. He said Kerry was negotiating in a "situation where there is no Plan B," and success is illusory unless the other side "knows there are consequences." There won't be any "under this president," Corker added.
Russian President Vladimir Putin said the accord is capable of "radically" changing the Syrian crisis, and that Russia will work with Assad's government to ensure compliance, Interfax news agency reported.
Kerry defended the approach of President Barack Obama, who has stopped short in the past of airstrikes or other military action against Assad.
"It would be a mistake for anybody to calculate that President Obama is going to decide that, if this doesn't work, there isn't another set of options," Kerry told Corker. "Anybody who thinks that there is impunity for violating this going forward is mistaken," Kerry said.
Assad's Grip
Assad's grip on power has been strengthened by dramatic battlefield gains since Russia entered the war on his behalf in September with a campaign of airstrikes.
This week, though, Islamic State cut off ground access for Syrian troops to Aleppo, the country's largest city and a focus of recent fighting. The group also took responsibility for suicide bombings Sunday that killed 184 people in Shiite areas of Homs province and a Damascus suburb, according to the U.K.-based Syrian Observatory for Human Rights, which monitors the fighting through a network of activists on the ground.
The exclusion of Islamic State, Nusra Front and other UN-designated terrorist groups from the pact clouded any expectations of major relief in the fighting. Assad deepened the skepticism by decreeing parliamentary elections for April 13, signaling that he has no intention of loosening his grip on power.
The Russians and the Syrians feel "they are in a strong position to go to the negotiations" while the opposition is exhausted and needs to regroup and resupply, said Riad Kahwaji, head of the Institute for Near East and Gulf Military Analysis in Dubai.
"We're far from the end of this war," Kahwaji said. "All parties can use a period of truce."
Before it's here, it's on the Bloomberg Terminal.
LEARN MORE