Banks Love Fed's Too-Big-To-Fail Plan, If They Can Change It
by and
Wall Street groups want to scrap debt demand Fed sees as key

Industry needs rule as a defense that firms are now much safer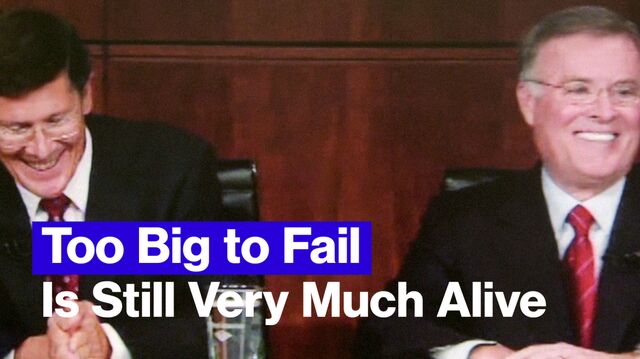 Wall Street lobbyists had to inhale deeply. In one breath they said regulators' latest plan to prevent big banks from causing another financial crisis was both horribly flawed and a solution that makes breaking up giant lenders unnecessary.
The pivot from criticism to praise shows the financial industry's tortured relationship with a Federal Reserve proposal that would wipe out shareholders and most bond holders to pay for a bank failure. Known as total loss-absorbing capacity, or TLAC, the rule stipulates additional capital buffers that lenders have to build to be able to endure heavy losses.
In a letter to the Fed released Monday, the industry said the agency should scrap an aspect of the rule that requires banks to hoard long-term debt because it could hurt the economy by crimping lending. Another point of contention is that as drafted, the eight biggest U.S. banks would be $363 billion short of what they'd need when the rule takes effect in 2019, according to the five lobbying groups that authored the letter.

There's no reason "to prefer debt to equity in any circumstances," said Clearing House Association President Greg Baer. The Fed should just stick to an accord struck between global regulators in November that didn't include such aggressive demands for banks to issue new bonds, said Baer, who stepped down as JPMorgan Chase & Co.'s head of regulatory policy in September.
Sanders, Kashkari
But don't get him wrong. He's a huge fan of TLAC. The rule should finally make people comfortable that no bank is too big to be allowed to fail, he said.
"It is truly the last piece in the puzzle," Baer said.
For the biggest banks, trying to persuade regulators to water down proposed rules like TLAC is far preferable than having to keep fending off demands that they be dismantled. The campaign of Democratic presidential hopeful Bernie Sanders has been boosted by the fact that he routinely makes the threat during debates and in his speeches. Last week, Minneapolis Fed President Neel Kashkari became the focus of news articles and television segments after he announced that breaking up large lenders is a concept that should be given "serious consideration."
The Fed contends the long-term debt stockpile is needed as a simple, reliable backstop that everyone knows will be the piggy bank that gets smashed if a firm collapses. Sticking debt investors with losses after shareholders have already fallen off a cliff will assure the public that taxpayers won't pay for another bank rescue, the argument goes.
But doing it the Fed's way will force the big lenders to hold three times the amount the central bank estimated last year, according to the lobbying groups. Baer said there are several easy and logical ways to reduce the $363 billion burden.
Another concern is that other kinds of debt created to stave off disasters haven't kept markets at ease. Look at what happened to Deutsche Bank AG earlier this month when investors got nervous about whether the firm could make payments on its contingent convertible bonds, which is debt that turns into equity in a crisis. Co-Chief Executive Officer John Cryan has said the bank's financial strength is "rock solid."
JPMorgan Debt
JPMorgan, the biggest U.S. bank, has $125 billion of debt that would be eligible under the Fed proposal. It's part of the bank's $350 billion in total loss-absorbing capacity, the New York-based company said Tuesday in an investor presentation. The other U.S. banks covered by the rule are Bank of America Corp., Citigroup Inc., Wells Fargo & Co., Goldman Sachs Group Inc., Morgan Stanley, Bank of New York Mellon Corp. and State Street Corp.
Art Wilmarth, a George Washington University law professor, wonders about the market for hundred of billions in bank debt that's on the way.
"Who is going to buy that long-term debt?" he said. Buyers of bonds are "not used to suffering losses," he said. Still, Wilmarth said that if the industry strongly prefers equity, it should have to have a lot more of it.
The groups that signed the letter -- the Clearing House, American Bankers Association, Securities Industry and Financial Markets Association, Financial Services Roundtable and Financial Services Forum -- had other problems with TLAC, including what they see as the proposal's inflexibility, its reliance on leverage restrictions and its lack of wiggle room on what kinds of debt qualify. But Baer was careful to sprinkle his remarks Monday with repeated suggestions that this rule will mean Wall Street has been rendered safe.
Before it's here, it's on the Bloomberg Terminal.
LEARN MORE