United Technologies Surges on Honeywell Merger-Talks Report
by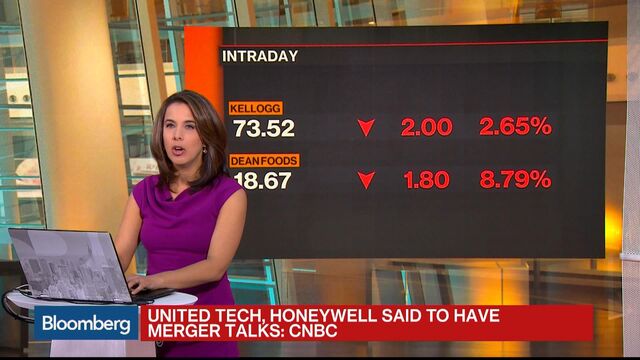 United Technologies Corp. rose the most in almost seven years after CNBC reported that Honeywell International Inc. approached the company about a possible merger.
The aerospace giants have held talks within the past two weeks about a possible deal in which Honeywell would offer a premium, CNBC said Monday, citing unidentified people familiar with the situation. United Technologies is concerned that a merger attempt may not pass a regulatory review, according to the report.
Representatives for United Technologies and Honeywell declined to comment.
United Technologies shares surged 6.1 percent to $93.65 at 2:28 p.m. in New York after an earlier gain of 7.6 percent, the biggest intraday advance since March 2009. The jump gave the company a market value of about $78 billion. Honeywell fell 1.4 percent $105.80, valuing the company at about $81 billion.
Talks began last year when United Technologies approached Honeywell about a merger that would put United Technologies management in control of the combined company, CNBC said. After a decline in United Technologies' stock price led to a breakdown in talks, Honeywell countered with an offer structured as a merger of equals, the network said.
Before it's here, it's on the Bloomberg Terminal.
LEARN MORE