Trump Gains Super Tuesday Momentum as Rubio Wins Second Life
By
Billionaire's decisive win in South Carolina propels him ahead

Jeb Bush exits race despite $150 million from supporters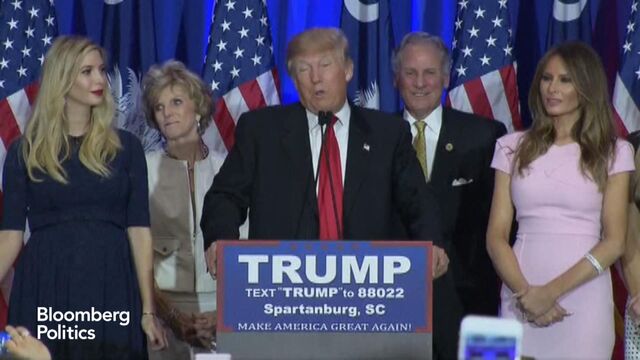 Donald Trump won a decisive victory in South Carolina's Republican presidential primary on Saturday to boost his chances of winning the nomination, as Florida Senator Marco Rubio earned a second campaign life with a strong showing and later scooped up an important endorsement heading to the next state contest.
Rubio's one-time mentor wasn't so lucky. Former Florida Governor Jeb Bush suspended his campaign, a crushing end for a one-time front-runner from one of America's most prominent political dynasties. Bush placed no higher than fourth place in any of the first three contests, despite supporters contributing more than $150 million to the effort.

"After tonight this has become a three-person race and we will win the nomination," Rubio told supporters. "Here in South Carolina, the message is pretty clear: this country is ready for a new generation of conservative leaders."
The results suggested the turning of a page for the Republican party, at least for a campaign cycle, away from one of the more enduring brand names in U.S. politics to an upstart political novice in Trump, who has tapped into the anxieties and frustrations of voters weary of establishment figures.
With 99 percent of precincts reporting, Trump had 32.5 percent, followed by Rubio at 22.5 percent and Texas Senator Ted Cruz at 22.3 percent. Bush had 7.8 percent, with Ohio Governor John Kasich at 7.6 percent and retired neurosurgeon Ben Carson at 7.2 percent.
Written Off
Rubio, the junior senator from Florida, was nearly written off after a bad debate stumble and fifth-place finish in the New Hampshire primary. He won the endorsement Wednesday of South Carolina's popular governor, Nikki Haley, who campaigned around the state with him.
Nevada's Republican voters will caucus on Feb. 23, and Rubio on Sunday got the nod from Dean Heller, the state's Republican senator who had supported Bush in the race before he stepped out. Heller declared Sunday on Twitter his "full support" for Rubio.
Cruz had hoped for a definitive second-place showing, in part because of the state's large proportion of born-again Christians. Exit polls showed they accounted for almost three out of four voters, but they went more heavily for Trump.
Even with Bush's exit, the results made clear how difficult it will be to stop Trump as long as the field remains at five candidates.
Servant Versus Master
Bush gave an emotional speech that highlighted the importance of the nation over the individual, in an apparent reference to Trump.
"I firmly believe the American people must entrust this office to someone who understands that whoever holds it is a servant, not the master -- someone who will commit to that service with honor and decency," he said.
"I'm proud of the campaign we've run to unify our country," Bush said. "But the people of Iowa and New Hampshire and South Carolina have spoken."
Bush had staked the future of his campaign on a strong showing in South Carolina, a state his father and brother both won on the way to the White House. Bush brought his brother, former President George W. Bush, onto the campaign trail last week in South Carolina, but it did little to improve his fortunes.
Super Tuesday Looms
The win slingshots Trump into the Nevada Republican caucuses and the so-called Super Tuesday states that vote March 1 and also have a heavy southern cast.
"As people drop out, I'm going to get a lot of those votes," Trump said in his victory speech.
Rubio made a nod to Republican icon Ronald Reagan, as he continued to suggest that it was time for a new generation to lead the party. "The children of the Reagan Revolution are ready to assume the mantle of leadership," he said.
In his speech, Trump spoke about the difficulty of running for president. "It's tough. It's nasty. It's mean. It's vicious. It's beautiful," he said. "When you win, it's beautiful."
Pope Francis
Trump's win follows a second-place finish in Iowa on Feb. 1 and a dominant victory in New Hampshire on Feb. 9.
In a week of intensive campaigning in South Carolina, Trump did things that would make a more traditional politician blanch. He sparred with Pope Francis, called for a boycott of Apple Inc., hinted that Boeing might pull some of its 8,000 manufacturing jobs out of the state and accused Cruz of lying and campaign dirty tricks. Southern gentility it was not, yet voters couldn't seem to get enough.
"If you don't believe that Donald Trump is the best candidate to run against Hillary Clinton in November, if you believe we believe we need a strong contrast with the Democrats, then we welcome you aboard our team," Cruz told his supporters, calling the outcome a tie with Rubio.
Trump dominated the vote statewide and exit polls showed he won most major demographic groups. 
—With assistance from Kevin Cirilli and Terrence Dopp.

Diverse State
He also won the largest share of the vote among those who consider themselves moderates and those who self-identified as somewhat conservative, while Cruz beat Trump, 37 percent to 27 percent, among those who said they're very conservative.
Trump easily won among active military and veterans, a sizable group in South Carolina. He also had the largest share of the vote among those 45 years and older and all levels of education, with the exception of those who have done postgraduate study.
South Carolina was the first test for candidates in a diverse state and in the solidly Republican southern U.S., so its results could be predictive ahead of contests in March, when other southern states will host a large proportion of the primaries and caucuses. Trump's win suggests his message, money and manner will travel well across the Old Confederacy, despite past positions in support of abortion and against the Iraq war.
Delegate Sweep
Trump won all of South Carolina's 50 delegates, according to NBC News. More than half of the delegates -- 29 -- are awarded to the statewide winner. The rest, 21, are apportioned based on who wins each of the state's seven congressional districts.
Since 1980, the winner of South Carolina's Republican primary has gone on to become the party's nominee every time, with one exception. The out-lier was in 2012, when a pair of strong debate performances just ahead of the voting lifted Newt Gingrich to a win over eventual nominee Mitt Romney.