BAE Eases Order Terms as Crude Clouds Gulf Eurofighter Prospects
by
Europe's No. 1 defense firm may require smaller downpayments

$1.5 billion bond sale will give company room for maneuver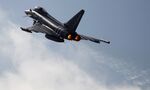 BAE Systems Plc is offering new options for funding defense deals as the low oil price impacts the spending power of clients in the Middle East, clouding sales prospects for weaponry including the Eurofighter warplane.
A $1.5 billion bond sale will support BAE's cash levels over the next two years, providing it with the flexibility to broker deals requiring smaller upfront payments from customers, Chief Financial Officer Peter Lynas said Thursday.
While the debt sale in December was "opportunistic" in a cheap market, BAE took the step "recognizing the financing pressures on certain export customers given the ongoing low oil price and the resulting potential for lower advanced payments on future contracts," Lynas said on an earnings call with analysts.
BAE said in its results presentation that guidance for 2016 and 2017 is "not assuming any major material down payments" from a Eurofighter sale to Saudi Arabia, reflecting the new approach. Among the company's key clients, the United Arab Emirates, Qatar and Oman are also reliant on oil-related revenues.
'Enduring Business'
Chief Executive Officer Ian King indicated Thursday that BAE still views the Saudi tender and other Eurofighter bids as open, saying a move in November to slow Typhoon output does not "change our commitment to these programs and our view of timing of activity in Saudi, and any of the other prospects."
King said that BAE isn't fazed by the oil-price development and that its relationship with Middle Eastern clients has survived past fluctuations. "We have a long enduring business which has been through many cycles before and will, I'm sure, go through many cycles in the future," he said.
Defense analyst IHS Jane's has cut its forecast for Middle Eastern defense outlay this year by $11 billion as the collapse of crude prompts governments to revisit spending.
"The rapid growth in budgets we've seen in the region since 2011 has come to an end," said Craig Caffrey, IHS analyst for Gulf defense budgets. "We'll see far more delays to equipment programs that do not have an immediate need."
At the same time, states are prioritizing spending central to fighting wars in Yemen and Syria, such as ordnance and pilot training. Companies including missile-maker MBDA, in which BAE has a stake, may stand to benefit, and BAE has also been awarded a deal to supply Saudi Arabia with 22 Hawk jet trainers.
Before it's here, it's on the Bloomberg Terminal.
LEARN MORE