Verizon Has Flipped for Video
It's counting on its new Go90 service to pull in ad revenue.
By and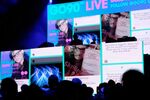 Verizon Communications once aspired to be the Comcast of mobile, streaming movies and TV shows to its 107 million monthly subscribers. Now it wants to be YouTube, feeding short video clips to millennials, who spend more hours each day glued to the tiny screens of their phones than they spend sitting in front of a TV.
America's largest mobile carrier has reached a key juncture. Its wireless revenue tripled in the past decade, but growth has slowed as just about everyone in the U.S. now has a cell phone. That's why Verizon is eager to stake its claim in the nascent market for mobile video. More than 139 million Americans watched video on a smartphone at least once a month in 2015, a number that's expected to jump 22 percent, to 169 million, by 2018, according to estimates by researcher EMarketer.
Verizon's Go90, named after people's tendency to flip their phone sideways to watch movies and videos, premiered as an app for Apple and Android phones in October and is available to customers of other carriers. The service is aimed mainly at teens and twentysomethings, for whom video watching is a social experience. There's a "cut and share" feature that lets users share clips with their Facebook friends and Twitter followers.
Go90's lineup includes shows from ESPN, NFL Network, MTV, VH1, and the Food Network. To supplement that, the carrier has commissioned more than 50 exclusive series from CollegeHumor, Vice, and Endemol Beyond USA, among others. Live broadcasts of sporting events such as NBA games (subject to additional fees) and concerts are also part of the mix. "If you look at mobile handset penetration, increased data speeds, and the viability of video offerings on mobile, it's just getting better with time," says Tom Gorke, executive vice president for sales and content distribution at Viacom, which owns Comedy Central and several of the other networks supplying Go90. "Verizon is the largest mobile operator in the country. Everyone would be eager to do a deal with someone that large."
In a move that may tip the playing field, Verizon announced in early February that data usage on Go90 won't count toward customers' caps. Rivals such as Netflix and YouTube Red, a $9.99-a-month subscription service introduced in October, would have to pay the carrier for their offerings to enjoy the same treatment. Executives at Verizon didn't respond to requests for comment.
The company's initial goal was to deliver subscribers a full package of live TV, on-demand shows, pay-per-view events, and games. It shifted gears last summer after it became clear that negotiating streaming rights with broadcasters and media companies would be difficult and time-consuming. Apple and AT&T have postponed their own video streaming services for similar reasons.
Unlike YouTube Red and Netflix, Go90 is free. Verizon is counting on ads to pay for the service. In the U.S., mobile video ad spending is growing faster than any other type of digital advertising: EMarketer estimates it reached $2.8 billion in 2015 and will double, to almost $6 billion, by 2018. Growth would be even stronger, EMarketer said in a report in June, if there were more consensus between ad buyers and sellers on audience metrics and pricing.
Using the trove of information it has collected on its wireless subscribers, including age, gender, general interests, and location, Verizon says it can help marketers flash their ads to the right people at the right time. With its $4.4 billion purchase of AOL in May, the carrier acquired a well-established programmatic ad platform—where machines, not people, make decisions about which ads run where. "AOL gives Go90 real-time ad sales," says Roger Entner, an analyst with wireless industry strategist Recon Analytics. "Without that, Verizon would have to rely on someone else like Google to provide the ad platform."
During an earnings calls in January, Verizon's chief financial officer, Fran Shammo, said the service had surpassed expectations. He declined to give specifics other than that the app had been downloaded some 2 million times. He tamped down expectations of a quick return. "Go90 will not be a profitable product probably within a one-year to two-year horizon," he said.
Walt Piecyk, an analyst with BTIG, an institutional brokerage, thinks Go90 may be even more of a long shot. "Sure, you can have fewer, higher-quality ads that companies are willing to pay more for, but you are going to need a lot of customers like that to even begin to move the needle for a company of Verizon's size," he says.
The bottom line: With Go90, Verizon is looking to capture a share of mobile ad spending, which is forecast to double by 2018, to almost $6 billion.
Before it's here, it's on the Bloomberg Terminal.
LEARN MORE