The Software Industry's Cabin in the Woods
Portland has quietly lured startups and big company satellites.
By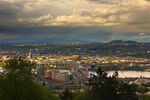 In 2013, about a year after he started the property-management software company Cozy in San Francisco, Chief Executive Officer Gino Zahnd hired a guy who insisted on living in Portland, Ore. So Zahnd set up a small office there and, in the interests of fairness, slowly started letting the rest of his employees choose between the two. By 2015, all 18 were in Portland. In the Bay Area office, Zahnd was the one who finally turned off the lights.
"We'd have people come up from the San Francisco office to work in Portland, and they'd just want to stay," Zahnd says. That's fine by him: In Portland, he pays less than one-third of his San Francisco office expenses.
Thanks in part to its Portlandia caricature as "the place where young people go to retire," the Pacific Northwest city is drawing talented Silicon Valley types looking for a less crazed pace. It's also attracting tech companies seeking alternatives to the Bay Area's rocketing costs. That includes startups as well as bigger companies such as EBay, Airbnb, and Salesforce.com, which have all opened Portland-area satellites since 2010.
In that time, the technology workforce in the city's surrounding Multnomah County has grown 82 percent, to more than 13,000, compared with a 29 percent gain nationwide in the same period, according to market researcher EMSI.
"It's a place that people want to be," says Greg Murphy, vice president of business operations at Aruba Networks, a unit of Hewlett Packard Enterprise. Aruba got an office in Portland with the 2013 acquisition of an indoor mapping company that had 14 employees. Today it has 100 there, 25 more than planned, partly because so many people asked to transfer from Aruba's headquarters in Sunnyvale, Calif. "I feel very jealous," Murphy says.
Marc Heedt, who used to work in sales at Twitter in San Francisco, traded a 90-minute commute for a 30-minute one in January after moving to Portland to work for mobile developer Urban Airship. He and his wife were able to buy a house more than twice the size of their 1,100-square-foot condo in Oakland—a priority as the couple's twins neared their first birthday. "The Bay Area is a really great place when you are single or a couple, but not when you have kids," says Heedt, 37. "More and more talent is going to be coming here."
For employers, Portland is a lot cheaper than other Pacific time zone tech hubs. While rental vacancies are low and Zillow estimates that home prices rose 16 percent last year, office square footage runs below $21, one-fifth the cost of San Francisco's, according to online real estate marketplace LoopNet. Workers in the science, technology, engineering, and mathematics (STEM) fields pulled in median annual salaries of $78,150 in 2014, vs. $106,180 in San Francisco, according to data compiled by Bloomberg.
Among the factors limiting industry growth, Portland doesn't have the top engineering universities and investor networks of San Francisco or even Seattle. The last initial public offering of a Portland tech startup was more than a decade ago. Democratic Oregon Governor Kate Brown says her state is making strides, having doubled spending on STEM programs for students to $35 million last year. Puppet Labs, which makes data-center management software, says it's talking to underwriters about a 2017 IPO.
Not everyone is psyched about the parade of transplants—a smattering of for-sale signs around Portland are plastered with stickers that direct Californians elsewhere. But most Oregonians remember the bad old days after the timber industry collapsed, so nobody's complaining that loud. "We're only at the tip of the iceberg," says Brown, seated at a conference table hewed from native hardwoods in the downtown Portland office of the state's economic development agency. A video looping in the lobby shows happy newcomers to "Techtown Portland" enjoying coffee and riding on MAX, the city's light-rail system. Portland has a history of drawing young people who "maybe" find jobs, Brown says. For now, it draws both.
—With Olga Kharif and Wei Lu
The bottom line: The technology workforce in Portland's Multnomah County has grown 82 percent, to more than 13,000, since 2010.
Before it's here, it's on the Bloomberg Terminal.
LEARN MORE