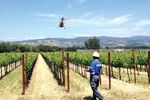 For generations, Napa Valley growers have used workers on foot or tractors to apply nutrients and pesticides to the vines that produce grapes used in some of America's most storied wines. Now Japan's Yamaha Motor thinks it has a better way: drones. After testing its helicopter-like RMax for the past two growing seasons, Yamaha in December became the first company to win federal certification for a drone to be used as an agricultural aircraft in the U.S.
That was a coup for a company looking to the skies for growth after conquering land with motorcycles and the seas with boats. "The market [for drones] will expand as the agriculture industry embraces unmanned farming," says Osamu Ishioka, former senior general manager of the company's unmanned helicopter business. "Even as the population is aging and declining, no country in the world will abandon farming. This is why our unmanned helicopters will be in demand."
Yamaha's drones have been dusting crops in Japan for more than two decades and handle more than a third of the nation's rice paddies. That's helped farmers cope with an aging population that's winnowed the agricultural labor supply. Yamaha's drones also operate in South Korea and Australia and are used for research in France.
Although there are hundreds of rival agricultural drones, many are smaller, powered by batteries, and work mainly collecting data, monitoring disease, and mapping. The gasoline-powered, scooter-size RMax, which has two 2.1‑gallon tanks, can fly for an hour when fully loaded with chemicals. It is radio controlled and has an onboard GPS system to keep its flight precise. Aerial spraying can be done as much as five times faster than with tractors, says Brian Wynne, president of the Association for Unmanned Vehicle Systems International.
Ken Giles, an agricultural engineering professor at the University of California at Davis, who's worked with Yamaha's testing program in Napa, says the technology has been reliable and that some growers are enthusiastic to try it—especially for vineyards that are hard to reach with tractors and backpack sprayers. Conventional crop-dusters are more suited for larger, flatter plots.
Drones also could be less risky. "There's always concern about the exposure to the chemical," Giles says. "One of the things we like about the remotely piloted aircraft is the operator is away from the actual location where the chemicals are discharged, while the tractor driver is right there when it's coming out."
Yamaha eventually plans to provide drone service for about $250 per hectare (2.47 acres) for vineyard spraying, about 40 percent cheaper than treating the same-size plot using human labor, Ishioka says. The high value of wine grapes such as chardonnay makes Napa an ideal starting point for the company's plan to cover 2,000 hectares in the U.S., he says.
First, Yamaha must convince vintners such as Matthew Crafton, a winemaker at Chateau Montelena Winery, that it can save them money. "The concept of drones is very interesting," Crafton says, "but I haven't seen any data to show that they are able to deliver the product in an efficient manner for what we need."
Unmanned copters account for only a tiny fraction of the company's 1.6 trillion yen ($14 billion) in annual revenue, but Yamaha has big plans for them. It aims to double the sales and profit margin of its drone business, to 10 billion yen and 25 percent, respectively, by 2021, Ishioka says. Besides their use in agriculture, Yamaha drones have been used in Japan's Fukushima prefecture for radiation monitoring since the nuclear disaster there in 2011, as well as for geomagnetic measuring around the country's active volcanoes.
Yamaha probably won't have the U.S. market to itself for long. China's DJI, the world's largest maker of drones, in November introduced its first agricultural spray drone. It can carry more than 10 kilograms (2.6 gallons) of liquid and will initially be sold in China and South Korea, DJI says. Yet Ishioka is confident Yamaha can maintain its lead, even as rivals offering battery-powered drones join the race. "There may be major breakthroughs in the battery technologies in the next 10 to 20 years," he says, "but before that they are not going to match what we have."
The bottom line: Yamaha's agricultural drones can spray a vineyard as much as five times faster than workers using tractors.
Before it's here, it's on the Bloomberg Terminal.
LEARN MORE