From Punch Bag to Savior: Joyce's Rise Echoes Qantas Rebirth
by
Profit seen almost tripling when Qantas reports next week

Stock has almost quadrupled since CEO Joyce's recovery plan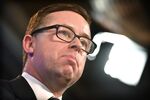 It's tough to overstate the tide of troubles that faced Alan Joyce, the chief executive officer of Qantas Airways Ltd., just two years ago.
Losses had ballooned amid a capacity war with Virgin Australia Holdings Ltd. and its foreign backers. Australia's government wouldn't guarantee Qantas's debt, which was junk-rated at the time. The airline's share price wallowed near an all-time low and thousands signed a public petition for Joyce to be sacked. 
Now he's pulling off one of the fastest turnarounds in Australian corporate history. Qantas stock has almost quadrupled and the airline is set for a record profit this year. Next week, Joyce may announce another cash return to shareholders, cementing his transition from embattled CEO to investor darling.
"It is a remarkable result," said Neil Hansford, chairman of Strategic Aviation Solutions, a consultancy firm based in Nelson Bay, north of Sydney, that specializes in business turnarounds. "Joyce was the punch bag for the media. Now that the airline has turned, he deserves the credit."
Underlying pretax profit will jump to A$908.7 million ($645 million) for the six months to Dec. 31 from A$367 million a year earlier, according to the average of three analyst estimates compiled by Bloomberg. Qantas said Dec. 15 it expected pretax earnings of A$875 million to A$925 million, as Joyce's turnaround program, rising sales and lower fuel prices take effect. The company reports on Feb. 23.
Flying Kangaroo
The airline nicknamed the Flying Kangaroo is generating so much free cash flow -- more than A$1 billion in the fiscal first half alone -- it could also announce a A$500 million stock buyback, Morgan Stanley said in a Feb. 9 report. The Sydney-based airline handed back A$505 million to shareholders as recently as November.
A Qantas spokesman declined to comment on Joyce's position or the airline's results before earnings are released.
While Qantas shares have climbed 59 percent -- through Wednesday -- from when Joyce took the helm in November 2008, it hasn't been an easy ride. In August 2011, he said he wanted to set up a premium carrier in Asia, but talks with Malaysia Airlines collapsed within months. In 2012, he oversaw the airline's first full-year net loss since it listed in 1995, amid the costs of industrial disputes and a record fuel bill. Qantas hasn't paid a regular dividend since 2009.

Joyce unveiled his plan for Qantas on Feb. 27, 2014: freeze wages, chop A$2 billion in costs, and sell or delay the delivery of some 50 planes. One in seven workers would be axed. 
Independent Australian Senator Nick Xenophon was already calling for Joyce and the Qantas board to resign and shoulder the blame for losses, and almost 5,000 people signed an online petition calling for the CEO to go. Many hadn't forgotten that Joyce left about 70,000 passengers stranded when he grounded the fleet in 2011 to tackle a labor dispute.
Within months, the recovery plan started to bear fruit as Joyce worked his way through 5,000 redundancies and wrote down the value of the fleet. In August 2015, Qantas reported its strongest full-year earnings since Joyce took over in 2008, and said it would buy eight Boeing Co. Dreamliners.
---

From plush private jets to the latest military aircrafts
---
Qantas shares, which dropped below A$1 in December 2013, on Thursday added 0.8 percent to A$3.95 at the close in Sydney. The stock will reach A$4.85 in the next 12 months, based on analysts' estimates compiled by Bloomberg.
Fresh Leadership
While Ireland-born Joyce hasn't completed his program, rivals looking for fresh leadership may already have taken notice, said Con Korfiatis, a Singapore-based partner at recruitment firm Heidrick & Struggles who specializes in airlines.
"If he was receiving approaches, that wouldn't surprise me in the slightest," said Korfiatis, who's also a former chief executive of Qantas's Singapore-based Jetstar Asia budget carrier. "A lesser man would not have survived what he's been through. He actually grounded the airline. Who does that?"
To be sure, some key economic trends are in Joyce's favor. The weaker Aussie dollar has helped draw record numbers of Chinese tourists to Australia. Each of them typically takes two or three domestic flights during their visit, in a local market dominated by Qantas, according to a presentation made by Joyce in November.
And the cost of fuel has tracked the plummeting price of crude oil. Qantas said in October its fuel bill for the year ending June 30 would be between A$3.61 billion and A$3.85 billion thanks to high levels of hedging. That's down from A$3.9 billion in the previous 12 months, and A$4.5 billion the year before that.
Sucking Up Capital
Part of Joyce's program was paring back loss-making international routes. Now the airline's alliances with Emirates, China Eastern Airlines and American Airlines can generate profitable revenue without sucking up capital, said Sean Fenton, a fund manager at Sydney-based Tribeca Investment Partners. 
There's also little sign of the "irrational competition" that flooded the market with cheap flights in the years before Qantas ran into trouble, Fenton said.
Between 2009 to 2014, Qantas's international competitors bloated their capacity by 44 percent, according to Joyce's November presentation. This financial year, the increase is expected to be between 4 percent and 5 percent.
"The luck of the Irish deserted him but it has come roaring back," said Fenton, whose firm bought its Qantas shares for around A$1.30 each. "It's hard to think of a company that has stared down the barrel and then come back so quickly."
While Qantas can still reap more benefits, there will come a time when Joyce's job is done, said Hansford, the consultant at Strategic Aviation Solutions.
"The question is: when does it get to the point that it needs somebody other than Alan to run it?" he said. "If you don't make a change at the top of the curve, then it starts to go down."
Before it's here, it's on the Bloomberg Terminal.
LEARN MORE