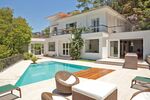 As Grace, my "guest experience specialist," explained how to operate the air conditioning, my mind drifted to coffee ice cream. Days earlier, after booking two nights in a one-bedroom Miami apartment via Oasis Collections (oasiscollections.com), which offers a personal concierge and VIP treatment at places like Soho House and SoulCycle, I got a questionnaire. It asked for my favorite drink (Champagne), ideal Friday night (TV bingeing), and dream midnight snack—thus, the coffee ice cream.

Oasis operates in 16 cities in nine countries and has aggressive international expansion plans. It did $17 million in bookings last year, says spokeswoman Carolina Ramirez, but it expects to more than double that in 2016, all on the premise that travelers like Airbnb but want more refinements than an air mattress.
My apartment, which cost $360 a night, had a sleek white-leather daybed, a private balcony with incredible views of South Beach, and a stash of rom-com DVDs. The owner and I never had any contact—Grace arranged complimentary pool access at the Raleigh hotel, just across the street. And while the open kitchen was stocked with Sprite and Pepperidge Farm cookies, there was no Häagen-Dazs. Alas, the questionnaire was meant to help them understand the type of person checking in, not a means to indulge my every whim.

Have I Got a Place for You!
A perfect pad awaits
For Families: Kid & Coe
Residences come stocked with ­strollers and highchairs, and listings note ­potential hazards, such as swimming pools and balconies.
For City Slickers: Onefinestay
The emphasis here is on ultrachic dwellings—and the sheets, shampoos, and espresso machines you'd expect from style-savvy urbanites.
For Ballers: 3rd Home
If you won't stay anywhere that doesn't have a marble tub and maid's ­quarters, this members-only service might suit you.
Before it's here, it's on the Bloomberg Terminal.
LEARN MORE