Credit Agricole Jumps Amid Cash Dividend, Bank Stakes Sale
by
Transaction seen boosting CET1 ratio to 11% from start of 2016

Fourth-quarter profit climbs 28%, beating analysts' estimates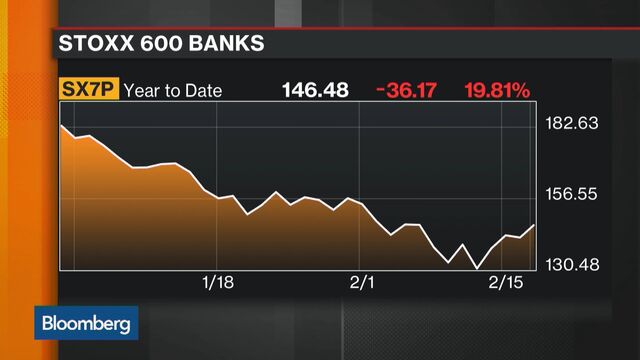 Credit Agricole SA jumped the most in more than four years after the French lender said it will sell stakes in more than three dozen French regional banks to shore up capital and target all-cash dividends.
The 18 billion-euro ($20 billion) transaction will increase Credit Agricole's common equity tier 1 ratio, a gauge of financial strength, to 11 percent as of the start of 2016, a year earlier than planned, the Montrouge, France-based bank said in a statement Wednesday. It will also ensure an all-cash dividend as soon as 2016. For last year, the bank will pay 60 cents a share, and give investors the option to take payment in stock.
Credit Agricole Chief Executive Officer Philippe Brassac, 56, is reorganizing financial ties with the French regional banks that control a majority of the lender, and in which it owns shares, to free up capital in the face of tougher regulation. Under the plan, the regional lenders will create a vehicle to buy back the 25 percent stakes currently owned by Credit Agricole, with the bank providing an 11 billion-euro loan to finance the deal.
"This simplification should reassure," said Marco Bruzzo, a Paris-based fund manager at Mirabaud, which managed about 8.5 billion Swiss francs ($8.6 billion) at the end of 2014 and owns shares in Credit Agricole. "The holding in the regional banks has always been difficult to value, and replacing it with 18 billion euros of cash shows that current market capitalization undervalues its other activities."
The shares rose as much as 16 percent and traded at 9.64 euros at 3:48 p.m. in Paris. That's the biggest intraday gain since October 2011. They have declined about 11 percent this year, while BNP Paribas SA has decreased 21 percent.

The transfer will provide more "financial flexibility" by making Credit Agricole's structure and results more transparent, Chairman Dominique Lefebvre told journalists in Paris.
Credit Agricole presented the operation to the European Central Bank and the French banking authority and got a "very favorable welcome" from these supervisors, Deputy Chief Executive Officer Xavier Musca told journalists. The bank plans to complete the transaction by the third quarter.
"The deal is more positive than anticipated," said Alex Koagne, an analyst at Natixis SA in Paris, who has a buy rating on the shares. "It's better for investors and it's better for everyone."
Profit Jumps
Credit Agricole's plan to streamline its structure comes after a similar move by Natixis SA. In 2013, the bank decided to sell holdings valued at 12 billion euros in the French regional lenders that form its parent, Groupe BPCE. That operation allowed Natixis to improve its capital ratio at the time while also distributing an exceptional dividend to shareholders.
The transfer will cut Credit Agricole's annual profit by about 470 million euros, based on 2015 results, while adding about 300 million euros in annual cash flow, Musca said. The deal will reduce Credit Agricole's earnings per share by less than 9 percent, it said on its website.
In the fourth quarter, net income rose about 28 percent to 882 million euros, beating the 707 million-euro average estimate of six analysts surveyed by Bloomberg News. Earnings were buoyed by increased revenue at money-management businesses, while higher provisions and costs reduced profit at the corporate and investment bank.
Energy Exposure
Corporate and investment-banking profit fell to 50 million euros from 227 million euros a year earlier as revenues in corporate lending dropped 9.4 percent. Provisions for non-performing loans at the unit rose 37 percent to 112 million euros, partly because of money set aside for energy-related financing, the bank said. Credit Agricole's exposure to the oil and gas sector is of "very high quality," with 84 percent tied to investment-grade counterparties, it said.
Europe's largest banks have seen a slump in revenue at their securities divisions, hurt by tougher capital requirements, cooling emerging-market growth and plunging commodity prices. Societe Generale SA said on Thursday that it may have difficulty reaching its profitability target for 2016, as it reported a 35 percent profit drop at its investment banking division.

Profit from savings activities, including asset manager Amundi SA, private banking and insurance, rose 17 percent to 462 million euros in the fourth quarter. Profit from the regional banks rose almost 11 percent to 229 million euros from a year earlier, while earnings at the LCL branch network fell 22 percent to 118 million euros.
Brassac, who took the top job last year, said Credit Agricole targets a return on tangible equity -- a measure of profitability -- of more than 10 percent over coming years. The bank presents medium-term goals in a presentation to investors on March 9. 
Before it's here, it's on the Bloomberg Terminal.
LEARN MORE