'Natural' Wine Is a Niche You Need to Know About
Four experts weigh in on wine's buzziest category.
By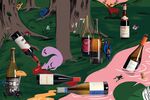 How to speak "natural"
Organic wines are made from grapes grown without herbicides and pesticides. Once harvested, though, chemicals and enzymes can be used in the winemaking process.
People who make biodynamic wines are a little … intense. They treat the vineyard as a living system and say all forms of life—animals, soil microbes, vines, other plants—exist in balance with each other and that a healthy harvest is the result of no imbalances (or herbicides and pesticides). Still, once these grapes are picked, the winemakers can employ chemicals.
A natural wine is organic or biodynamic in the vineyard—and free of additives in the winery, meaning no yeasts, no nutrients, and, most controversially, no sulfur, which is used as a preservative to help a wine taste uniform bottle to bottle. All of this helps give natural wine its complexity—some might describe it as "funk"—and explains why oenophiles are into them: Just as we like to know exactly what we're eating these days, we want to know exactly what we're drinking, too.
Before You Buy
When venturing into this niche category, it's important to frequent shops that are serious about the stuff. Natural winemaking isn't economical enough for most major producers; much of it's done by smaller ones who have a more limited supply.
Victor Schwarz
Owner and importer, VOS Selections, New York
Judith Beck Zweigelt 2014
$20; midwaywine.com, weingut-beck.at/en/
"Fresh, juicy, lip-smacking dark cherry and black currant delightfulness."

Supernatural Sauvignon Blanc 2013
$20; wineworksonline.com, andco.co.nz
"This wine has a cool, smoky-spicy quality." It will change what you expect from New Zealand sauvignon blanc.

Courtney Walsh
Wine director at Buzz Wine Beer Shop and sommelier at Miro Restaurant, Los Angeles 
Domaine Bobinet Hanami Cabernet Franc 2014
$21; buzzwinebeershop.com, domaine-bobinet.com
"An incredibly fresh, gluggable bottling that screams with personality and fruity charm."

Domaine Belluard Le Feu Gringet 2013
$50; buzzwinebeershop.com, domainebelluard.fr
"Le Feu captures the purity of mountain air, with gorgeous floral aromatics and bracing minerality."

Jai Wilson
Wine director, Trou Normand, San Francisco
Lo-Fi Cabernet Franc 2014
$28; lofi-wines.com
Despite a relatively light body, it doesn't taste lean—"it's got a sense of vitality." There are hints of red plum, tobacco, and herbs.

Scholium Project Naucratis 2014
$25; scholiumwines.com
In general, natural winemaking lends "nothing specific in terms of flavors." But here the microbial environment brought out an apricot aroma.

Pascaline Lepeltier
Wine director, Rouge Tomate, New York 
Emidio Pepe Montepulciano d'Abruzzo 2007
$80; winex.com, emidiopepe.com
"I would take any vintage. The wines are not only terrific but they age forever." That's why Pepe offers "library" releases.

Champagne Marie-Courtin Concordance 2011
$109; chambersstwine.com, polanerselections.com
It's rare to find wines from the Aube, in the south of Champagne. This one is "extraordinarily complex," with different flavors expressing themselves at various points. 

Beware "vegan wine"
Natural wines are already vegan because they aren't filtered. The filtering process often involves egg whites or fish bladders—in the barrel, larger solids glom on to these agents and sink to the bottom, allowing wine to be pumped away clean. So anyone promoting wines as vegan is doing it only for marketing reasons and might not care about quality. "If you buy a wine because it says it's vegan, there's a good chance it's going to be crappy," Lepeltier says.
Before it's here, it's on the Bloomberg Terminal.
LEARN MORE