Apollo to Buy ADT for $6.9 Billion in 2016's Biggest LBO Yet
by and
Investment firm's co-founder had said LBO pipeline drying up

Holders to receive $42 a share in cash, a 56% premium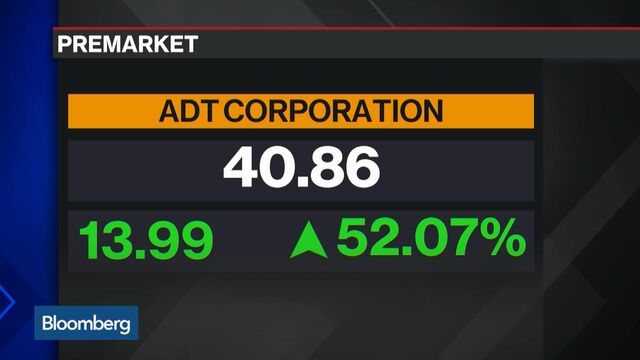 Apollo Global Management said it would acquire home-security monitoring company ADT Corp. for about $6.9 billion, agreeing to the biggest leveraged buyout of the year against a backdrop of credit markets that have seized up.
Apollo will pay $42 a share in cash for the Boca Raton, Florida-based company, according to a statement Tuesday. That's 56 percent above the Friday closing price for ADT, which was spun off by Tyco International Ltd. in 2012.
The private-equity firm is planning to boost its offerings in the expanding home-security industry by combining ADT with an existing business, Protection 1. ADT, which has fallen three straight years in the stock market, gains a partner that has done a better job at retaining customers and signing up new ones because it doesn't need to focus on quarterly earnings, said Shlomo Rosenbaum, an analyst at Stifel Nicolaus & Co.
"When you're private you can basically say, 'This makes a lot more sense on a long-term perspective,' " he said in an interview. "They're starting to bring the attrition rates down, which is the first thing that's necessary to do. When you're a public stock you end up getting punished for what are the initial turns on that because the numbers don't look as good."

ADT surged 48 percent to $39.64 at the close in New York, the biggest one-day gain since going public. The advance puts a squeeze on so-called short-sellers, people who agreed to sell ADT with borrowed stock betting it would fall. With 24 percent of ADT's available shares borrowed, short interest in the company is more than six times the average of companies in the Standard & Poor's 500 Index, according to data compiled by Markit Ltd. Apollo rose 5.4 percent to $14.12.
The deal is at least the second to be announced by Apollo since co-founder Josh Harris said on Jan. 29 that the "financing markets are shutting down," causing the firm's acquisition pipeline to dry up.
Riskier corporate loans became so unappealing in the fourth quarter that banks had to boost yields on more than $23 billion to sell them, compared with repricing $11.7 billion in the previous three months, according to data compiled by Bloomberg. In the corporate bond market globally, sales slowed to an 11-year low in January.
Competing Bids
AT&T Inc. and Comcast Corp. could potentially present competing bids as they seek to add customers for the security systems they already offer, Rosenbaum said. Cable and phone companies have been adding almost 1 million security subscribers as year as they expand services, he said. 
ADT has a "go-shop period" through March 26 to solicit or receive competing bids as part of the deal. A spokesman for AT&T declined to comment. Comcast didn't immediately return requests for comment.
ADT's planned combination with Protection 1 puts the aggregate deal value at about $15 billion, Apollo said.
With competition from telecom, cable and security companies, as well as the ability for homeowners to rig up their own systems, it's unlikely regulators would block the deal, Rosenbaum said. Three of the largest providers -- ADT, Protection 1 and ASG Security -- have about 30 percent of the market, according to Rosenbaum.
"There's a ton of other players out there," he said. "It's a very fragmented market once you get down below the top five or six."
Goldman Sachs Group Inc. is lead adviser to ADT, while BofA Merrill Lynch also is advising the company. Protection 1's advisers are Barclays, Citigroup Global Markets Inc., Deutsche Bank, and RBC Capital Markets LLC. Those banks also are providing financing for the deal.
ADT's board unanimously approved the transaction, which Apollo said it expects to complete by June. The deal, the value of which is based on about 165.3 million shares outstanding, is subject to approval by ADT shareholders.
Apollo also last week announced that it and other investors agreed to buy Apollo Education Group Inc., owner of the University of Phoenix, for $1.1 billion. Tyco International Ltd. acquired ADT in 1997 for $5.6 billion before the 2012 spinoff.
Before it's here, it's on the Bloomberg Terminal.
LEARN MORE