Prominent Televangelist Says He Will Endorse Donald Trump
Mike Murdock, head pastor at the Wisdom Center ministry, joins a handful of evangelical leaders backing the Republican presidential hopeful ahead of the South Carolina primary.
By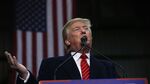 Days before the first Southern primary of 2016, Mike Murdock, a prominent Texas-based televangelist, will formally endorse Republican Donald Trump for president at a rally in Greenville, South Carolina, on Monday. 
"He has a warrior spirit for restoring America in the eyes of the world and he has a warrior's heart," said Murdock, the head pastor at the Wisdom Center ministry, told Bloomberg Politics in an interview. "I am endorsing him for president."
Murdock, who frequently preaches about prosperity, arguing that a strong moral faith will lead to financial success for Christians, joins a handful of high-profile evangelists who have backed the billionaire candidate who's battling for supremacy in the Feb. 20 Republican primary in South Carolina. Two-thirds of Republican voters in the state describe themselves as evangelical.  
"We feel as evangelicals that God is being ignored," said Murdock, who also preaches as a televangelist on multiple national and international networks and has nearly a quarter-million Twitter followers. "We feel that there's content for God in the Bible, and I believe that Mr. Trump has a heart of restoration, including restoring us economically."
Trump is locked in a battle with Senator Ted Cruz of Texas, who is also making strong appeals to evangelicals ahead of the primary contest. Both campaigns are targeting the upstate geographical portion of South Carolina, which has deep evangelical roots.
Cruz has portrayed Trump as having unacceptably moderate views on social issues like abortion and same-sex marriage. Trump has argued that Cruz lies to get votes, and has attacked the Texan for spreading false rumors just ahead of the Iowa caucuses on Feb 1. that retired-neurosurgeon Ben Carson, a favorite with conservative Christians, was dropping out of the race.
Earlier Sunday, Cruz released an attack ad targeting Trump's comments, in a candidates' debate, that there are aspects of the reproductive healthcare provider Planned Parenthood that he supports. "It does wonderful things, but not as it relates to abortion," Trump said on Saturday. Planned Parenthood provides a range of women's health services including breast exams and Pap tests, as well as performing abortions. 
Cruz's campaign shot back. "Planned Parenthood treats the unborn like another form of currency and yet some politicians still defend them," a female narrator says ahead of showing clips of Trump saying he supports the non-abortion services of the organization. "Donald Trump is just plain wrong."
Murdock said that he had "not a single concern" about Trump's positions on issues like abortion and gay marriage.
"I don't trust a man who is too calculating in his talk," Murdock said. "I like a man who is thoughtful and I like a man that tells me his heart. [Trump's] face always says me what his mouth is saying and I enjoy that."
Another leading conservative Christian, Jerry Falwell, Jr., the president of Liberty University and son of the late Reverend Jerry Falwell, endorsed Trump ahead of the Iowa caucuses, in which Cruz placed first.
—With assistance from Ben Brody in Washington.