U.K. Calls Bookseller Case `Breach' of Hong Kong's Autonomy
by
Information indicates Lee `involuntarily removed' to China

HK government: Reports of involuntary removal 'speculative'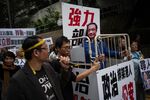 The U.K. government suspects that bookseller Lee Bo was "involuntarily removed" from Hong Kong to mainland China, in what it called a threat to the city's autonomy.
"The full facts of the case remain unclear, but our current information indicates that Mr. Lee was involuntarily removed to the mainland without any due process under" Hong Kong law, U.K. Foreign Secretary Philip Hammond wrote in a biannual report on the former British colony submitted to Parliament in London.
Lee, whose name is also spelled Lee Po, is one of five missing men linked to a Hong Kong store that sells books critical of China's Communist Party elite. Chinese police said Jan. 18 that Lee was in China and that he told his wife he was cooperating with an investigation. Lee holds a British passport and was reported missing in December. The Hong Kong immigration service has no record of him leaving the city, fanning suspicion he was abducted by mainland authorities.
'Strong Displeasure'
China Foreign Ministry spokesman Hong Lei expressed his country's "strong displeasure" and "firm objection" to the British report, while reiterating China's commitment to its "One Country, Two Systems" principle in Hong Kong. "We request that Britain be cautious with its words and deeds and stop interfering in Hong Kong affairs," he said in a statement on the government website Friday.
Hammond had raised the issue of Lee's disappearance last month during a visit to Beijing, saying that Lee should be tried in Hong Kong if accused of any offense. China's foreign minister, Wang Yi, said at the same briefing that Lee was "first and foremost a Chinese citizen." China doesn't recognize dual citizenship. 
Foreign Ministry spokeswoman Hua Chunying said at the time that Hong Kong issues were China's internal affairs. "No foreign country has the right to interfere," she said in a video broadcast by the BBC.
In a statement Friday night, the Hong Kong government said police were investigating the case and any suggestion that Lee was involuntary removed to the mainland "remains speculative."
Only Hong Kong law-enforcement agencies can enforce laws in the city, the statement said, adding that Hong Kong police are seeking assistance from mainland Chinese authorities.
Rights, Freedoms
China has in the past taken umbrage to what it calls British meddling in its internal affairs and the issue flared during pro-democracy protests that shut traffic in parts of the city in late 2014. China's Foreign Ministry in November of that year urged former Governor Chris Patten not to intervene after he called on the local government to offer concessions to demonstrators.
A month later, members of Parliament's Foreign Affairs Committee were banned from visiting the city, prompting a protest from Prime Minister David Cameron, one of his few forays into Hong Kong politics during the protests that lasted more than two months. Cameron has been criticized for giving priority to economic links with China at the expense of standing up for human rights.
In this latest report, Hammond pushed China for action. "We urge the authorities in Hong Kong and Beijing to take the necessary steps to maintain confidence in the system and the sanctity of the rights, freedoms and values it upholds," he wrote.
Police in the southern Chinese province of Guangdong told their Hong Kong counterparts on Feb. 4 that booksellers Lui Por, Cheung Chi Ping and Lam Wing Kee, who disappeared while in mainland China in October, were being probe in connection with Gui Minhai, an author linked to the bookshop. Gui -- a Swedish citizen -- disappeared from Thailand in October and was shown on Chinese state television on Jan. 17 confessing to a 2004 fatal drunk-driving incident and asking Swedish authorities to respect his decision to turn himself in.
Before it's here, it's on the Bloomberg Terminal.
LEARN MORE