Vintage Cars
Rediscovering the Awesomeness of a 1967 Cadillac Coupe de Ville
A vintage ride in classic luxury gives a clue to Cadillac's contemporary ambitions.
By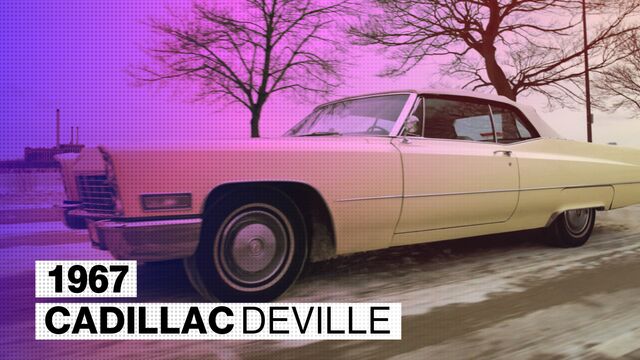 Last weekend Beyoncé did more in 5 seconds for the El Camino than General Motors marketing did for years.
Her "Formation" video, which dropped right before her Super Bowl halftime performance, showed the lady plush in white fur leaning out the passenger side of an ice-blue El Camino, long braids nearly brushing the ground as her afro-d driver cuts donuts in a lot. She looks amazing. And so does the car. 
Here's another vintage GM gem: The 1967 Cadillac Coupe de Ville.

This is the signature whip Caddy made from 1946 to 2006, with prime years in the '60s (older ones look like overstuffed pillows). The line included both convertible and coupe versions, both intended as iterations of the perfect car for cruising around the neighborhood. The name, of course, is French for "of the town."
I borrowed this particular Coupe de Ville from a man in Detroit who has owned it for decades. Cadillac has worked hard to recapture the allure of its past cars, and I wanted to get a feel firsthand for what exactly made them cool. So after pulling some strings to get the car on location one freezing day in January, I got my chance to see for myself.
This one is painted in "Persian Ivory" white, with seats inside that are the color of marshmallows. Everything in it is original, from the push-button radio and stick-thin steering wheel to the "de Ville" badging and silver rims. Even the power windows hold true to the original model.

Better yet, you can identify this thing from a mile away—it is about a mile long, after all. (By which I mean nearly 19 feet, more than a foot longer than a Cadillac Escalade.) It's made completely out of metal, sculpted into cigarette-boat elegance, and festooned with a grill that looks like emerald-set diamonds.
The car has an 8-cylinder, 340-horsepower engine that ran as smoothly when I drove it as it did nearly 60 years ago. How smooth is that? Like how you feel when you look out an airplane window and see puffy white clouds just inches below you. It's like entering a dream state so placid you half expect to see Care Bears and Unicorns frolicking alongside you in the cotton candy pillows. Trippy.

Driving it provides a good commentary on what the motoring style was during the time; it provides a good reference for just how far the auto industry has come, both in mechanics and in creature comfort. It helps fill in the spots on GM's timeline of progress through the years and gives a fuller picture of where the company is headed.  
These days you can buy a mint-condition de Ville for around $20,000 (up from around $6,000 when it came out new). Don't expect to get great gas mileage or anything, but you can expect to cruise easily at 80 mph or so along the road. Or spin it around in your personal music video. Bey would be proud.
Before it's here, it's on the Bloomberg Terminal.
LEARN MORE