politics
Webb Says He Won't Pursue Independent Presidential Bid
The former Virginia senator, who sought the Democratic presidential nomination in 2015, would have faced a difficult path.
By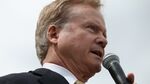 Former Virginia Senator Jim Webb, who ran a brief campaign for the Democratic presidential nomination in 2015, said Thursday he won't mount an independent presidential bid.
"Theoretically it could be done, but it is enormously costly and time sensitive, and I don't see the fundraising trajectory where we could make a realistic run," Webb planned to say during a foreign policy speech in Dallas, according to prepared remarks provided by spokesman Craig Crawford.
A reluctant campaigner, Webb would have faced a year of popular discontent but no clear desire by voters for a third-party candidate.
A secretary of the Navy under President Ronald Reagan, Webb has worked for—and criticized—both parties, slamming the Iran nuclear deal, a signature diplomatic effort of President Barack Obama, as well as President George W. Bush's decision to go to war in Iraq.
Before it's here, it's on the Bloomberg Terminal.
LEARN MORE