Fischer Says Fed Still Able to Help Banks Facing a Crisis
by
Vice chairman cites stigma of borrowing from discount window

Yellen responds to lawmaker's grilling on lending authority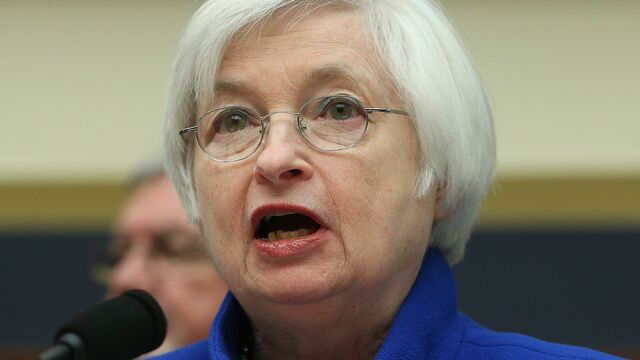 U.S. regulators still have the power to help banks facing a funding squeeze even as the stigma for lenders seeking emergency cash has increased in recent years, Federal Reserve Vice Chairman Stanley Fischer said.
"U.S. financial agencies collectively have substantial lender-of-last resort authorities to meet future contingencies," Fischer said in remarks during a speech in Washington on Wednesday. The Fed "maintains the ability to provide liquidity to markets during times of unusual financial stress, including the authority to lend to insured depository institutions," he said.
Fed Chair Janet Yellen was questioned Wednesday about Fischer's comments during a hearing before a House committee. Representative Scott Garrett, a New Jersey Republican, said "nothing really has changed" despite provisions of the 2010 Dodd-Frank law to reduce the Fed's emergency lending powers.
Yellen rejected Garrett's assertion, saying the Fed has implemented the restrictions and can use only "broad-based" programs to help banks. But she also said the central bank's "ability to lend, to keep credit flowing in the economy during a financial crisis, is a critical power."
Discount Window
The exchange reflects tension in Washington over how much leeway regulators have to aid banks. Republicans in Congress complain that the Fed had too much authority to rescue financial firms during the 2008 meltdown and have sought to curtail its powers. Fed officials say the flexibility they had helped soften the blow of the crisis.
Fischer on Wednesday cautioned that banks could become more reluctant to seek help because of rules imposed since the crisis requiring more public disclosure about borrowing from the Fed's discount window. He made his comments as U.S. bank stocks have fallen to their lowest levels since 2013.
"I suspect that the stigma associated with the discount window is even higher, given the public's incorrect association of ordinary discount window borrowing with 'bailouts,'" Fischer said.
The Fed's discount window is used by banks to borrow money when funding is tight.
Before it's here, it's on the Bloomberg Terminal.
LEARN MORE