Japan's Ten-Year Yield Falls to Zero for the First Time
By
Switzerland only other nation to see 10-year go negative

Japan has more than half its bonds yielding zero or less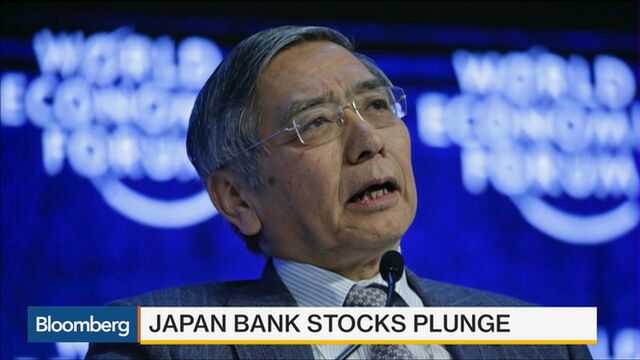 The yield on Japan's benchmark 10-year government bonds fell below zero for the first time, an unprecedented level for a Group-of-Seven economy, as global financial turmoil and the Bank of Japan's adoption of negative interest rates drive demand for the notes.
The 10-year yield has tumbled from 0.22 percent before the BOJ surprised markets with the decision on Jan. 29 to introduce a minus 0.1 percent rate on some of the reserves financial institutions park at the central bank. It fell 7 1/2 basis points to a record minus 0.035 percent as of 3:05 p.m. in Tokyo.
Japanese bonds are also climbing as sovereign securities rally worldwide. Global stocks have dropped 10 percent this year on concern growth is slowing in China, and as slumping oil prices undermine policy makers efforts to revive inflation. About 29 percent of the outstanding debt in the Bloomberg Global Sovereign Bond index was yielding less than zero as of 5 p.m. in New York on Monday. Swiss 3 percent notes due in 2018 were offering the lowest yield in the index, according to data compiled by Bloomberg.

"It was just a matter of time before 10-year yields went negative, so it wasn't a surprise," said Yusuke Ikawa, a Tokyo-based strategist at UBS Group AG.
Five-year yields dropped seven basis points to minus 0.25 percent, while two-year yields slid five basis points to minus 0.245 percent. Both were record lows. A basis point is 0.01 percentage point.
The expected price volatility for Japanese debt over a 60-day period soared to 3.13 percent on Monday, the highest level since June, according to data compiled by Bloomberg.