NARAL Pressures Trump, Rubio, and Cruz in Light of Zika Epidemic
The pro-choice group contends that the spread of the virus exposes flaws in the presidential candidates' positions on public health.
By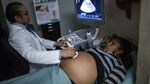 Ilyse Hogue, the president of NARAL Pro-Choice America, doesn't have much in common with the three front-runners of the Republican presidential race—all of whom are notably anti-abortion. But on Thursday evening, she sent them a letter. 
"We're asking you," Hogue wrote, addressing Texas Senator Ted Cruz, Florida Senator Marco Rubio, and New York real-estate magnate Donald Trump, to "put public health above partisan ideology and to take action to protect the health and safety of women and families across our country." In light of the mounting ravages of the Zika virus—the tropical infection linked to microcephaly that the World Health Organization on Monday declared an international public health emergency—Hogue asked the candidates to shift tack and "support universal contraceptive coverage for all women, at least until we learn more about this deadly virus and how to contain its spread."
The letter, which NARAL sent by e-mail to each campaign and will post to its website, aims to rally the group's progressive base and to underline the Republican Party's desires to defund Planned Parenthood and repeal the Affordable Care Act, and its opposition to 2014 piece of legislation, dubbed the "Not My Bosses' Business" Act, which sought to prevent for-profit companies from dropping coverage of employees' birth control.
Zika has appeared in Cruz's, Rubio's, and Trump's home states. On Tuesday, health officials in Texas reported the first case in the U.S. of its sexual transmission. On Wednesday, Florida Governor Rick Scott declared a public health emergency over the virus in four state counties. And Thursday, after confirmed instances of Zika transmission in New York City, New York Governor Andrew Cuomo announced that New York State would be offering free blood-testing to all pregnant women who have traveled to countries touched by the outbreak. 
Hogue uses this as her premise: the responsibility each candidate has "to help advance a nationwide dialogue on how best to respond to this global health emergency." 
With their letter, NARAL seeks to find sympathy, even support, for their point of view—this in an election cycle that has featured almost competitive jostling, among Republicans, over who would defund Planned Parenthood and overturn contraceptive coverage with greater speed and vigor.
"I know that asking someone to re-examine their positions, no matter how ill-informed and dangerous they are, is a difficult ask," Hogue writes. "But I've seen it happen before in the face of a public health emergency. When the HIV/AIDS epidemic hit Indiana last spring, Governor Mike Pence dropped his long-held opposition to needle exchange because he knew he faced a public health crisis that could only be solved if he allowed this critical program to exist in the state.
NARAL requested a response from each campaign by Tuesday at 12 a.m.—the day of the first-in-the-nation primary. The group says that, depending on response from the Republican camps, it plans to mobilize voters in early-primary states including New Hampshire, Nevada, and South Carolina to emphasize what they consider the candidates' poor commitment to women's and families' health.
The campaigns for Trump, Cruz, and Rubio did not return request for comment.