Moderate's Dilemma
Kelly Ayotte Has a Donald Trump Problem
The mood of Republican voters has shifted since New Hampshire's first-term GOP senator was elected.
By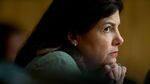 New Hampshirites take their role as the first voters in any presidential primary very, very seriously. At a party sponsored by the state GOP to watch the Jan. 28 Republican debate, attendees marked the 100th anniversary of New Hampshire's primary with a red, white, and blue sheet cake emblazoned with the words "Celebrating FITN"—Twitter parlance for "first in the nation." Campaign volunteers, party officials, and politicians snacked on brie-and-raspberry phyllo triangles while local surrogates made pitches for their candidates.
They also had their pick of free buttons, signs, and bumper stickers for Kelly Ayotte, the state's first-term U.S. senator, who is running for reelection in November. In 2010, amid a national Republican wave, she beat her Democratic opponent by 23 points, even as New Hampshire reelected Democrat John Lynch to the governor's mansion. This year, Ayotte, a fiscal conservative who has reached across party lines to cooperate with Democrats, is crucial to the GOP's hope of holding on to its four-person Senate majority.
"I like her very much," said Raul Cervantes, a regular volunteer for Republican campaigns who is supporting John Kasich. Cervantes, a Mexican-born handyman who won the evening's tax-reform-themed bingo game, had less kind words for Donald Trump: "That's not the way to run the country, as an angry person."
Therein lies Ayotte's problem. To win in November, the junior senator will have to attract conservative, anti-establishment Republicans to her cause while holding on to moderates like Cervantes who are turned off by Trump and Ted Cruz, who won the Iowa caucus. "It's not like Passover, where the voters say, 'Oh, these are the good Republicans that we're meant to spare,' " says Fergus Cullen, a former state GOP chairman from 2007 to 2008, who recently endorsed Kasich. "They kill them all."
At least 9 of the 34 Senate seats up for election in November are likely to be competitive. Six are held by Republicans in states Obama won in 2012, including Florida, Illinois, and New Hampshire, a once solidly red state that's been trending increasingly Democratic. Ayotte is expected to face the state's current Democratic governor, Maggie Hassan, who was reelected in 2014 by five points. "There's not much margin for error for either campaign," says Andy Smith, director of the University of New Hampshire's Survey Center.
Unsurprisingly, Hassan supporters see a Trump or Cruz nomination as a dream come true. "It's just easy to paint a picture that she's one of them, of that extreme right wing of the Republican Party, which is taking control of the Republican Party," says Hassan campaign treasurer Kathy Sullivan, a former state party chair. "We should be that lucky."
When Ayotte ran for Senate in 2010, she was a widely liked state attorney general who'd been appointed by a Republican governor and reappointed by a Democrat. She racked up endorsements from John McCain and Sarah Palin. In office, she's joined most of her fellow Republicans in voting against a 2013 gun control bill, against funding Planned Parenthood, and in favor of phasing out Medicaid expansion under the Affordable Care Act. But she's sided with Democrats in supporting comprehensive immigration reform and the Environmental Protection Agency's Clean Power Plan. Ayotte has also been critical of her colleague Cruz, blasting him for his role in shutting down the federal government in 2013. "She's sort of in the McCain mold," says Steve Duprey, Ayotte's finance chair. "She does what she thinks is right and will tell her own party to go pound sand when they're wrong."
That hasn't endeared her to some of her party's voters. Inside the turreted Nashua hotel where Trump hosted a rally on Jan. 29, Colleen King contrasted Ayotte's vote for immigration reform with Trump's anti-immigrant stance. "His whole position is what is the best for America, to get America back to not being the sugar daddy for the world," said King, a 60-year-old wearing a red-and-white MAKE AMERICA GREAT AGAIN scarf. "I think she's like a piece of wet spaghetti. She flip-flops."
Ayotte has also alienated some of her Republican colleagues in the state. After Republicans retook the New Hampshire House in 2014, Ayotte opposed ex-speaker Bill O'Brien's bid to reclaim his old post. O'Brien, who is now Cruz's New Hampshire campaign co-chair, organized a meeting in November aimed at finding someone to challenge Ayotte in the Republican primary. No one has emerged, but the filing deadline for the race isn't until June. "Kelly was given to us by the Republican National Committee," says Karen McRae, an 11-term former state representative. "She doesn't represent New Hampshire."
Ayotte's campaign disagrees. "In stark contrast to Hassan, Kelly has held more than 50 town halls since taking office to hear directly from voters and bring their ideas and concerns to the Senate," says her campaign manager, Jon Kohan. "Regardless of how the presidential race plays out, our campaign is focused on drawing a contrast between Kelly's record of delivering results for New Hampshire and Governor Hassan's failure to lead or even take a stand on the issues that matter most."
New Hampshire has occasionally voted split tickets: In 2000, the state went for Republican George W. Bush in the presidential race but reelected Democrat Jeanne Shaheen as governor. (Shaheen is now New Hampshire's senior U.S. senator.) Ayotte allies say voters know her as a problem solver who prioritizes Granite State issues such as heroin treatment funding and as someone who's a ubiquitous presence around the state. "If it was anybody else, I would say they didn't have a chance," says Andy Crews, a former chair of the Greater Manchester Chamber of Commerce and the state auto dealers association. "She is the realest, most authentic person that I've met in politics—there is no question about that—and I think those deposits will pay off, because they were authentic."
Before it's here, it's on the Bloomberg Terminal.
LEARN MORE